APS vs solar industry battle heating up
Posted:
Updated: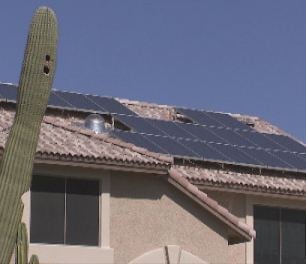 PHOENIX (CBS5) -
APS wants new home solar customers to pay a little more, but new questions are being raised about how far the energy giant is willing to go.
A few months ago, TV ads went out across the Valley that said APS should be allowed to raise its rates on home solar customers so that everyone pays their fair share.
The ads were produced by a national conservative group called the 60 Plus Association.
An APS official told CBS 5 back in July that they were not funding the TV spots.
Now, APS has changed its story, saying that they did provide money to the group that produced the ads.
Greg Field, with Arizona Solar Concepts, said that APS is misleading the public in its fight to hike up home solar rates.
"We don't want backdoor deals, we don't want underhanded funding, we don't want misleading the public," said Field. "This needs to be a fair discussion. For APS to tell us to our face, as an industry - to tell homeowners and news outlets for the last year that they were not funding either of these campaigns - and now for it to come out they were actually funding these, is extremely disappointing."
The Arizona Corporation Commission is currently considering an APS proposal that would change the APS net metering program by asking new home solar customers to pay higher monthly fees and create an equal playing field with non-solar users.
The solar industry claims that APS is only interested in more profit and the higher fees would kill solar in Arizona.
CBS 5 asked APS spokesman Jim McDonald whether he gave out misinformation in regards to the TV ads.
"At the time, that is what I understood to be true," said McDonald. "There was absolutely no misleading of anybody. As soon as I knew that money from APS went indirectly to 60 Plus, we let the media know. We are in the middle of a political fight we don't want, but we have to fight it."
The Arizona Corporation Commission is expected to vote on the APS proposal next month.
The decision could impact the monthly energy bills of everyone across the state.
Copyright 2013 CBS 5 (KPHO Broadcasting Corporation). All rights reserved.