ASU Football back on the road against Washington State
Posted:
Updated: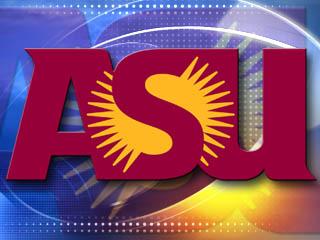 © cbs 5
PHOENIX (CBS5) -
The No. 25 Arizona State University football team will head back on the road this weekend as the squad takes on the Washington State Cougars in Pullman, Wash., on All Hallow's Eve. The Halloween duel will be broadcast on ESPN with a kickoff slated for 7:30 p.m. PT from Martin Stadium.
The Sun Devil football program is currently in its 101st season of competition in 2013. The Sun Devils are 574-364-24 (.609) all-time and have appeared in 26 bowl games, compiling a 13-12-1 record in such contests.
Arizona State kicked off the 2013 campaign with a rout over Sacramento State in a rare Thursday night tilt, knocking off the Hornets 55-0 at Sun Devil Stadium, followed by a dramatic 32-30 victory over No. 20 Wisconsin. Following a loss to Stanford, ASU dispatched of USC, 62-41, before wrapping up their non-conference slate for the season with a tough 37-34 loss to Notre Dame as part of the Shamrock Series, which took place in Arlington, Texas. ASU rebounded with a 54-13 dismantling of Colorado at home. ASU picked up its second win over a top-25 ranked program against No. 20 Washington on Homecoming, blitzing the Huskies in a 53-24 victory.
#10THINGS (Twitter-Friendly Notes)
1. Marion Grice leads the nation red zone scoring with 11 touchdowns this season on 31 rushes (ASU w/ 43 RZ drives). #GricingOnTheCake
2. Holding #UW and #CU under 100 rushing yards marked first time @FootballASU accomplished the feat in back-2-back FBS games since 2009
3. @FootballASU is forcing opponents into an average of 6.7 #ThreeAndOut drives per game, currently ranked fourth nationally.
4. #UW QB Keith Price was 11th in the nation in completion % entering previous game at 69.3%. Held to 41% against ASU. #SecondaryAPrimary
5. @FootballASU is averaging 45.4 points per game in 2013, scoring 318 points through 7 games. School record is 46.8 ppg set in 1972
6. ASU has the #FBS's No. 1 and No. 2 scorers in Marion Grice at No. 1 and PK Zane Gonzalez (@Zane95) at No. 2.
7. No Pac-12 team has more receptions by RBs (73) nor a higher % of completions to RBs (40.6%) than @FootballASU #DualThreats
8. QB Taylor Kelly top 16 in nation in passing TDs (18), total offense (355 ppg), completions ppg (24.71) & passing yards (2,236) #TKO
9. Marion Grice leads the nation in scoring with 15.4 ppg. There are seven TEAMS in country averaging less.
10. In last 15 seasons (Bowl Games excluded), @FootballASU is 17-5 when not playing on a Saturday, 9-2 on Thursdays.
ON THE AIR The MidFirst Bank Sun Devil-IMG Sports Network will carry all 12 of ASU's football games live on its 10-station radio network, including flagship station Sports 620 KTAR AM. Tim Healey (play-by-play) and former Sun Devil quarterback Jeff Van Raaphorst (color analyst) will call the action with Doug Franz reporting from the sidelines. This week's game will be broadcast on 620 KTAR AM. Weekly radio coverage begins two hours prior to kickoff with the "Talking Stick Resort Sun Devil Tailgate Show," hosted by Doug Franz. The game will also be broadcast on Sirius Channel 85 and XM Channel 85 with the WSU broadcast taking place on Sirius/XC Channel 91.
LIGHTS, CAMERA, ACTION Thursday's contest will mark the third appearance for ASU on the ESPN Family of Networks this season. ASU is currently 2-0 on games played on the ESPN channels this season with victories of #20 Wisconsin and USC. The Sun Devils will kick off at approximately 7:30 p.m. Arizona time. Rece Davis will provide the call with Jesse Palmer alongside on color while Samantha Steele will provide insight from the sidelines.
ON THE COUGARS ASU leads the all-time series against Washington State, 24-13-2 and are winners of nine of the last 10 contests against the Cougars. The last time ASU played in at Washington State, the Cougars knocked off the Sun Devils on a snowy night to end ASU's three-game winning streak in Pullman. ASU has outscored the Cougars 183-58 in the last five contests, including two shutouts during that span (2008 and 2010). A win for ASU would mark just the third time in the past decade that ASU became bowl eligible prior to November.
RECAP - ASU v. WASHINGTON logging lanes and jumping into the backfield on seemingly every play, Arizona State swarmed Washington's Bishop Sankey while dominating both sides of the ball in a 53-24 victory over the 20th-ranked Huskies. The Sun Devils (5-2, 3-1 Pac-12) flipped the tables on Sankey with a dominating defensive performance, holding him to 22 yards on 13 carries. Arizona State held Washington to minus-5 yards on 25 carries -- matching the second-fewest ASU has allowed since 1996 -- and limited the nation's eighth-best offense to 212 total yards. The Huskies (4-3, 1-3) were worried about Taylor Kelly's legs as much as his arm and Arizona State's quarterback still hurt them with both. He threw for 268 yards and two touchdowns and ran for 84 yards and two more scores.
OTHER NOTES - WASHINGTON
-ASU and Washington entered the game with the all-time series tied at 15 wins apiece, but ASU took the lead in the series with the victory. The Sun Devils have now won eight-straight against the Huskies, tied for the third longest active winning streak among all Pac-12 series.
-Arizona State scored 53 points against UW, the most points it has ever scored against Washington. Previously, the high was 45 points in 1996.
-Sun Devil Stadium has been pleasant for ASU this season, holding a 5-0 mark while playing on its home field. The Devils are 9-2 all-time at home under Todd Graham and have two home games remaining (Oregon State and Arizona). ASU has gone undefeated at home just once in the past 16 seasons (1997-2012), when it was 6-0 in 2004.
- The Sun Devils led 29-7 at halftime as they went on to win by a comfortable margin. ASU improves to 12-0 when leading at the half in the Todd Graham era.
- The Huskies entered the weekend third in the FBS in not allowing teams to force them to three-and-outs, only having nine of them in 77 total drives. The Sun Devils held UW to six in the first half alone, and forced the Huskies to surpass their season total in one game, holding them to 10 three-and-outs.
-Washington could not manage gaining positive yards on the ground against the ASU defense, totaling -5 rushing yards over the course of the contest. In the past 18 seasons (1996-present), ASU has held just two teams to -5 yards rushing or better. It held Idaho State to -5 on Sept. 5, 2009 and held Washington State to -54 on Oct. 20, 2009.
-Entering the contest, UW starting quarterback Keith Price was 11th in the nation in completion percentage at 69.3 percent (133-192) but he was held to 16-of-39 (41 percent) throwing while being sacked six times. Washington had given up just 12 sacks all season entering the weekend and gave up seven total to the Sun Devils.
IN THE RANKINGS Arizona State re-entered the AP Poll this week at No. 25. The team currently sits 27th in the BCS rankings as well as having over 20 team and individual statistical marks that rank in the top 20 nationally, detailed below:
-Marion Grice is No. 1 nationally in rushing TDs (12)
-Marion Grice is No. 1 nationally in scoring (15.4)
-Marion Grice is No. 10 nationally in all-purpose yards (165.00)
-Zane Gonzalez is No. 2 nationally in scoring (11.4)
-Zane Gonzalez is No. 1 nationally in field goals per game (2.1)
-Taylor Kelly is No. 9 nationally in completions per game (24.71)
-Taylor Kelly is No. 12 nationally in passing TDs (18)
-Taylor Kelly is No. 16 nationally in passing yards (2,236)
-Taylor Kelly is No. 11 nationally in passing yards per game (319.4)
-Taylor Kelly is No. 14 nationally in points responsible for (126)
-Taylor Kelly is No. 7 nationally in total offense (355.0)
-ASU is No. 5 nationally in fewest penalties per game (3.57)
-ASU is No. 11 nationally in fewest penalty yards per game (33.57)
-ASU is No. 5 nationally in first downs defense (114)
-ASU is No. 14 nationally in fumbles lost (3)
-ASU is No. 14 nationally in passing offense (332.0)
-ASU is No. 22 nationally in passing yards allowed (205.3)
-ASU is No. 15 nationally in red zone offense (0.907)
-ASU is No. 6 nationally in scoring offense (45.4)
-ASU is No. 14 nationally in total offense (509.1)
-ASU is No. 20 nationally in turnover margin (0.9)
NOTABLE NUMBERS
--A year removed from scoring the third-most touchdowns in a single season (19) in ASU history, Marion Grice is well on pace to demolish the single-season scoring record (22, Wilford White/1950) in 2013 as he already has 18 touchdowns through seven games this season. In his last 10 games dating back to last season, Grice has found the end zone 24 times (17 rushing, seven receiving) - scoring at least one touchdown in each of those contests. In 2013, he is averaging a touchdown every eight times he touches the ball (18 TDs on 144 touches/12.5 percent of touches).
--With ASU set to take part in its second Thursday night game of the season this week, a look through the record books shows the Sun Devils have had a significant amount of success when not playing on a Saturday. Bowl games excluded, in the last 15 seasons (since 1999) ASU is 17-5 when not playing on a Saturday and is 9-2 in Thursday night contests in that span.
--In holding both Colorado (99) and Washington (-5) under 100 yards rushing in back-to-back games, it marked the first time ASU had accomplished the feat against two FBS opponents since doing so against Washington and Washington State in 2009. Those were the third and fourth games of a four-game streak in which ASU held its opponents under 100 rushing yards, including games againt Oregon State and Georgia.
--The Sun Devils have a turnover advantage of +6 on the season, and they have eight touchdowns off 16 opponent turnovers aided by two interceptions returned for touchdowns. ASU is outscoring opponents 71-35 on points off turnovers in 2013.
--ASU has scored a touchdowns on 37 of 92 total drives this season (40.2 percent), a total that ranks eighth among FBS institutions
--ASU last held three opponents consecutively under 100 yards rushing back in 2009, when the squad limited Georgia, Oregon State, Washington State and Washington under the mark in four straight games. ASU has a chance to make it three in a row this week against a Washington State team that has really struggled in the run game, ranking dead last in the FBS this season at 58.4 rushing yards per game.
STRIKE FIRST With Jaelen Strong's 69-yard touchdown reception on the first drive of the game against Colorado, Arizona State has scored first in 16 of the 20 games with Todd Graham at the helm, and is 4-1 in such contests this season. The Sun Devils are now 11-5 in the Todd Graham era when getting on the scoreboard first.
STRIKE FAST ASU The quick-hitting offense has become a staple of the Todd Graham-coached Sun Devils, with 88 of ASU's 118 offensive scoring drives under Graham coming in three minutes or less (74.6 percent). That being said, ASU with also has seven scoring drives of four minutes or longer in seven games, compared to having four such drives in the entirety of 2012. This feat was capped by a 14-play, 80-yard drive against Colorado that took 7:04 off the clock - the longest drive in terms of time under Todd Graham. That being said, ASU still has maintained a high number of quick scoring drives this season, scoring in three minutes or less on 38 of the team's 52 scoring drives to date. There has been a direct correlation between the time of ASU's scoring drives this season and the points per scoring drive as well. When ASU scores in three minutes or less, it averages 6.1 points per drive. When the drive last longer than three minutes, ASU's average drops to 5.1 points per drive. In ASU's eight drives this season lasting longer than four minutes, the team is averaging just 4.4 points per score.
START STRONG...FINISH STRONG The Sun Devils have now outscored their opposition 197-96 in the first quarter under Todd Graham. Perhaps the more telling statistic, however, is the fact the Sun Devils are 10-0 under Graham when holding their opposition scoreless in the first and have done so in three of the team's five wins this season. ASU improved to 12-0 when leading at halftime with Graham as coach following the Washington contest. ASU also knows how to close out games, outscoring teams 217-115 in the fourth quarter of games under Graham. ASU has outscored its opponent in five of seven games in the fourth quarter this season, with the only two exceptions coming in games that were well in hand against USC and Colorado.
WINNING BY WAY OF TKO (TAYLOR KELLY OFFENSE) The school record holder in completion percentage and efficiency after last season, Taylor Kelly has thrown for 21 touchdowns with seven interceptions this season (one coming on a Hail Mary against Stanford). Through seven games, Kelly already has 2,236 passing yards and is averaging 319.4 yards per game and is on pace to break the school records in both categories. Kelly started the season with five consecutive games of throwing for 300 or more passing yards and now has eight career games where he has accomplished the feat, moving him into sole possession for the third-most games with 300 or more passing yards behind only Andrew Walter (12) and Rudy Carpenter (11). Statistically, the team relies heavily on Kelly's ball protection, as ASU is 3-7 with Kelly as the starter when he throws an interception, compared to an unblemished 10-0 record when he doesn't. That being said, all three of those victories have come this season, showing ASU's improved ability to overcome adversity at the hands of turnovers.
DUAL-THREAT QB Taylor Kelly's ability to extend plays was exceptional last season, as demonstrated by his 516 net rushing yards on 134 attempts on the year - a mark skewed by the fact that sacks count against his rushing total. If you take out sacks, Kelly would have led the team in yardage and yards per carry with 690 net rushing yards last season on 103 carries (6.7 ypc). Sacks aside in 2013, Kelly has 336 net rushing yards on 42 attempts (7.4 ypc) and doubled his career touchdown tally with two on the ground against Washington, finishing with 84 net yards (101 total) on 13 carries. Kelly is second on the team with 17 rushes for first down, trailing only Marion Grice (27) in the category. He is also second on the team in "explosive plays" on the ground (rushes of 12 or more yards) with nine this season, trailing only Grice's 12.
GRICE, GRICE BABY Marion Grice proved to be one of the top junior college additions in the country last year after leading the team with 19 touchdowns (11 rushing, eight receiving) on the season - tied for the third-highest single season total in school history behind just Wilford White (1950, 22) and Terry Battle (1996, 20) on the all-time list. Grice's knack for finding the end zone became commonplace, as he posted touchdowns on 19 of his 144 offensive touches last year (13.2 percent). Grice has now scored in nine consecutive games and is sneaking up on J.D. Hill, who owns the school record with 13 straight games with a TD back in 1969 and 1970. In 2013, he is averaging a touchdown every 8.0 times he touches the ball (18 TDs on 144 touches/12.5 percent of touches). He currently is second in the conference among players with at least 90 touches with a touchdown every 8.0 touches behind Oregon State's Brandin Cooks (TD per 7.1 touches),
#LOOKGRICEBEFORECROSSING Marion Grice not only leads the nation in scoring this year at 15.4 points per game, but he is able to get it into the end zone in a variety of ways. Last season, Grice led the nation's running backs with eight receiving touchdowns. He is on pace for that feat again in 2013 as he leads the nation's running backs again with six receiving TDs this year. Grice is on pace to upend all manners of scoring records for ASU. He now has 37 career touchdowns, ranking him tied for fourth all-time in ASU history, despite playing in just 20 games. It is highly unlikely Grice will track down the ASU career touchdown record of 48 (held by Woody Green and Wilford White) but at Grice's current rate, Leon Burton's third-place hold with 42 touchdowns is just within sight. White holds the record for points per game in a season, scoring 13.6 per game back in 1950. White's touchdowns per game for a career record of 1.33 might also be in jeopardy with Grice currently averaging 1.85 per game. Entering October, Grice became one of just four FBS players in the past decade to score 12 touchdowns before October. Michael Crabtree had 14 for Texas Tech in 2007 in five games while MSU's Javon Ringer also had 12 in five games in 2008. Grice joined Tempe's Bernard Pierce (2011) as the only two players to accomplish the feat in just four games.
#NATTYGRICE When it comes to having to convert in clutch opportunities, Marion Grice seems to has ice in his veins, answering the call time and time again. His exceptional touchdown numbers aside, Grice also leads the team in third down conversions this season with 14 on ASU's 45 successful conversion attempts (31.1 percent). The number is worth mentioning as Grice led the team last season as well in the category, but did so with just 14 conversions on ASU's 89 successful attempts. Grice leads the team this season with 40 first down conversions (27 rushing, 13 receiving) on 168 non-penalty induced first downs (23.8 percent). Grice also doesn't put ASU in many loss-of-yardage positions, having posted more touchdowns this season (18) than negative-yardage plays in his career (16). Oh, and he doesn't drop the ball. Grice has toted the ball 301 times in his career (214 rushes, 74 receptions and 13 returns) and has not put the ball on the ground once in that time.
#THEPRICEISGRICE With two more touchdowns, Grice will become just the just the 15th conference player in the Pac-10/12 era to notch 20 touchdowns in the past 36 seasons. It has happened 15 times, with LaMichael James of Oregon doing it twice. Grice is steadily closing in on the Pac-12 record for touchdowns in a season, 28, held by Stanford's Toby Gerhert in 2009. Grice also has eclipsed 100 all-purpose yards in the last nine games dating back to the season, marking the fourth-longest active streak in the FBS. Only Western Kentucky's Antonio Andrews (21), Arizona's Ka'Deem Carey (10) and Tulsa's Trey Watts (10) have longer streaks.
#DYNAMICDUO Marion Grice and D.J. Foster are two of just five FBS players that returned this season that had both 400 yards on the ground AND through the air last year and are back at it again this season. The pair combined for 276 of the team's 585 total yards of offense against Notre Dame (47.2 percent) and thus far this season, the duo has combined for 1,370 yards of total offense and 19 touchdowns, representing 38.4 percent of ASU's 3,564 yards for scrimmage this season and 51.3 percent of the team's offensive touchdowns. The duo has been instrumental in moving the chains as well, accounting for 64 of the team's 168 non-penalty induced first downs this season (38.1 percent).
TWO IS BETTER THAN ONE Grice and Foster return 2,130 combined yards from last season (1,172 rushing, 958 receiving) and 25 touchdowns. Among Pac-12 programs returning dual backs where one back didn't take over 75 percent of the touches between the two, only the Oregon squads returned numbers that came close to stacking up. Oregon State returns Storm Woods and Terron Ward, who combined for 1,747 yards (1,355 rushing, 392 receiving) and 19 touchdowns. Oregon, which lost Kenjon Barner to graduation, returns a tandem of De'Anthony Thomas and Byron Marshall, who put up a combined 1,607 yards (1,148 rushing, 459 receiving) and 20 touchdowns.
FOSTER THE PEOPLE D.J. Foster was second on the team in all-purpose yardage with 1,026 yards last year (493 on the ground and 533 by air). His ability to make what the ASU coaching staff calls "explosive plays" (rushes of 12 or more yards, receptions of 16 or more yards) helped him stand out amongst an offense full of talented players as he led the team in such plays with 31 total (18 receiving and 13 rushing). He has 12 such plays already this season, currently third on the team. Foster has made his mark in the receiving game this season with 36 grabs for 390 yards (10.8 ypc) through seven games, ranking second on the team in both categories. He also has a knack for getting to the first down marker as he is currently third on the team with 24 first downs on 62 touches this season.
A STRONG START All told, 23 Sun Devils have made their debuts this season, but none are turning as many heads as Jaelen Strong. The junior college transfer leads the team in receptions and yards with 45 grabs for 685 yards (6.4 rpg/97.9 ypg) and four touchdowns this season. In his first four games, Strong made his mark by posting the best four starts on any receiver in term of yards and receptions in school history. Prior to Strong, no Sun Devil wide receiver in history had posted more than one 100+ yard game in their first four starts. Strong accomplished the feat three times and has five 100+ yard games through his first seven games at ASU.
THE FORCE IS STRONG Just as impressive as Jaelen Strong's statsitics are, his ability to make catches when they count can't be overlooked. A total of 28 of his receptions have gone for first downs while he has also drawn seven pass interference penalties against opposing defenses (four of which resulted in first downs, three were declined), thus playing a role in 32 of ASU's 186 total first downs this season (17.2 percent). His seven receptions for a first down when the team is facing third or fourth down currently lead the team and two of his four touchdown grabs this season have come on fourth down. His 105 receiving yards, four receptions and two touchdowns on fourth down this season all lead the nation. Additionally, Strong leads the team in explosive plays (rushes over 12 yards and receptions over 16 yards) with 20 this season. The leading receiver for the Sun Devils over the entire 13 games last season in the category had 18 explosive receiving plays, a figure Strong took just six games to break. Averaging 6.7 receptions per game, Strong currently ranks 29th nationally in the nation in the category and is 25th nationally in receiving yards per game at 97.9 yards per game. His 685 total receiving yards this season are 30th nationally. It is worth noting Strong missed much of the Washington game due to a minor injury, thus affecting his normal productivity.
HOLD 'EM BACK ASU prided itself on its aggressive defense last season, forcing 117 tackles for a loss of 497 total yards - a 9.00 TFL per game mark that led the nation. As a whole, ASU had a combined 155 defensive plays that went for a loss or no gain out of 953 offensive plays the opposition ran and if you tack on incomplete passes to the mix, then ASU forced 341 plays that did not result in positive yardage (35.8 percent of opponent's plays from scrimmage). ASU had 12 tackles for loss against Washington and three stops at the line of scrimmage along with 24 incomplete passes (39 negative or zero-yardage plays out of 65 or 60 percent of plays from scrimmage). To date this season, the ASU defense has held offenses to 174 plays (out of 455 by the opposition) that have not earned positive yardage (includes incomplete passes) - a 38.2 percentage rate of plays run from the line of scrimmage.
BETTER SUITED FOR HANDKERCHIEFS The Sun Devils don't give referees much reason to reach for their pockets under Todd Graham. Nine of ASU's 14 least penalized games since 2006 have come under Todd Graham, including four of the seven games played this season. Four of those games have come this season following the four penalties for 30 yards against Washington
MORE ON PENALTIES Todd Graham has had a knack for having some of the most disciplined teams in the nation when it comes to penalty yards. In each of his seven seasons as a head coach, Graham's teams have been consistently ranked among in the top half of the least penalized teams in the country in both yards and penalties per game. In 2012, the Sun Devils finished 10th in fewest penalties (4.23) and eighth in fewest penalty yards per game (34.9). In 2013, ASU ranks fifth nationally in penalties per game (3.6) and is 11th in penalty yards per game at (33.6), leading the Pac-12 in both categories.
LIGHT 'EM UP Putting points on the scoreboard won't typically be a problem with Mike Norvell heading the offense, as ASU has eclipsed 50 points four times in seven games this season. The school record in five, set by the 1973 team. ASU is averaging 46.0 points per game over the last nine games dating back to last season. ASU's 265 points at the midway point this season (six games) are the second-most in program history through the first six games of the season, trailing only the 278 posted by Frank Kush's Fiesta Bowl winning team in 1972, which holds the school record for points per game (46.8) and total points (562). ASU's 118 combined points in the last two season openers (ASU defeated NAU 63-6 last season) are the highest in consecutive openers in program history and ASU's 87 points through the first two games were the third most in ASU history behind last year's team (108) and the 94 put up by Dirk Koetter's squad in 2005. ASU's 62 points against USC tied for the most any team has ever scored against the Trojans and marked the first time ASU had dropped 50+ on its Pac-12 South rival. It was the second most points ASU has ever scored in a conference matchup behind only the 65 scored against Stanford in 2002. ASU went 86 games without scoring 60 from 2005-2011. Under Coach Graham it has scored 60 three times (63 NAU, 62 Navy, 62 USC). The Sun Devils currently rank sixth nationally at 45.4 points per game.
MAKE 'EM PAY ASU put points on the board following all four of Sacramento State's turnovers in the opener as well as capitalizing on all of USC's four turnovers, continuing a trend that started last year. In 2013, ASU is outscoring it's opponents 71-35 on points off turnovers while posting a +6 takeaway number just past the midway point. ASU has put points on the board following 81.3 percent of oppponent turnovers compared to just the 50 percent clip ASU opponents are scoring off of Sun Devil turnovers. ASU has eight touchdowns this season on 16 opponent turnovers, aided by two interception returns for touchdowns. Last season, the Sun Devil offense put points in the bank on 70.0 of its conversion opportunities, scoring 18 touchdowns off of 30 turnovers forced. ASU outscored opponents 139-58 in points off turnovers over the course of last season, despite posting just a middling +6 number in the takeway category. Much of that came by way of the defense, which did an admirable job of limiting opponents following turnovers by the offense. Last year, ASU's opponents scored on just 41.7 percent of their drives following an ASU turnover and scored just seven touchdowns in that span on 24 turnovers.
THE ALTERNATIVE DEFINITION OF "SCORING DEFENSE" Scoring defense is an official statistic credited to defenses based on how many points they allow per game. The ASU defense worked to re-write that definition with a defense that finds a way to directly lead to points on the board. Alden Darby's interception return for a touchdown against USC was the first such instance this season, followed by Osahon Irabor's against Notre Dame. Davon Coleman and Carl Bradford forced an intentional grounding in the end zone against Colorado for ASU's first safety of the season, making the ASu directly responsible for 16 of ASU's points this season. Last year, ASU had three interceptions returned for touchdowns on the year (Alden Darby - 70 yards at USC, Anthony Jones - 36 yards vs Oregon and Brandon Magee - 45 yards vs NAU) and one fumble recovery for a touchdown (Junior Onyeali vs Oregon State). Considering points off turnovers that the ASU offense scored, the ASU defense had a hand in 165 of the 499 points (33.1 percent) scored for the Sun Devils last season and is off to a similar numberthis year, having placed their stamp on 73 of ASU's 318 points (23.0 percent) scored this year. The icing on the cake for this statistic game on a goaline touchdown pass to defensive tackle Davon Coleman against Colorado, technically increasing ASU's defensive total to 80 points. ASU now has five interception returns for touchdowns under Graham, compared to posting just four total in the previous three seasons prior to 2012.
WINNING THE BATTLE FOR FIELD POSITION The Sun Devils were largely exceptional when it came to starting field position last season, and continue to resonate a point Todd Graham continually makes about being successful in the field position battle to win games. The Sun Devils started in Colorado territory four times against the Buffaloes while while no CU drive started beyond their own 35-yard line.The opposite was true against Notre Dame with ASU starting, on average, at its own 21-yard line compared to the Irish starting at their own 36-yard line on average. Under Todd Graham, ASU has had an average starting yard line of its own 37.7 in 13 victories compared to a starting yard line of the 24.2 for their opponents in such contests. Conversely, opponents have an average starting field position of their own 34.8 yard line compared to ASU starting at its own 28.7 in ASU losses. Some of this year's credit goes to placekicker Alex Garoutte, who has 27 touchbacks on 59 kickoffs - but also has done a good job placing balls, helping the ASU coverage team to limit the opposition to under 20 yards per return this season. Last season, ASU posted an average starting spot of their own 33-yard line that ranked 10th in the nation. The Sun Devils also held their opponents to an average starting line of their own 28-yard-line, a total that ranked 24th nationally. All that being said, even facing bad field position this season, the Sun Devils haven't necessarily fared badly. ASU has six scoring drives of 80 yards or longer through seven games this season (including three against Colorado), a notable feat as ASU had six such drives in the entirety of the 2013 season.
HALFTIME PEP TALKS The Sun Devils struggled the score last season in the third quarter of games, scoring just 91 points in third quarters all season and holding only a 91-86 scoring edge over opponents over the course of the season compared to 145-69, 137-99 and 126-62 in the first, second and fourth quarters respectively. The difference a year makes as ASU has outscored opponents 88-44 in the third this season, a +24 scoring margin seven games into the season that seems to have bucked the trend of coming out slow in second halves. ASU is averaging 9.7 points per third quarter against FBS programs this season - a tally that ranks 20th nationally - compared to a 7.0 points per third quarter total against FBS opponents total in 2012 that was 50th nationally. ASU is outscoring opponents 154-103 in the second half of games this season and has outscored opponents 86-59 in the fourth quarter of this year's contests. ASU leads the nation in points per fourth quarter this season against FBS opposition (13.8) after finishing the 2012 season wtih 9.3 points per fourth the team tallied, good for eighth nationally. ASU's 23.5 second-half points per game against FBS squads this season is currently second nationally.
GOLD ZONE One area that has seen improvement this season for the Sun Devils is red zone offense, with ASU putting points on the board 94.6 percent of the time against FBS opponents, ranking fifth nationally in the category, as per TeamRankings.com (and outside of a kneel to run out the clock inside the the five-yard line against Colorado, is a perfect 100 percent in the last four games). ASU was a perfect 10-for-10 against Washington inside the red zone. Last season, ASU scored on just 76.1 percent of their drives inside the 20 and ranked a lowly 93rd in the nation against FBS opponents. On the flip side, ASU is allowing its FBS opponents to score 90.9 percent of the time this season when entering the red zone (ranked 109th nationally), compared to an 80.5 percent figure last season that was 51st in the nation - a factor the Sun Devils are sure to want to address.
GRICING ON THE CAKE Thought you were done reading Marion Grice notes? Lucky for you, there's more. Not only has ASU established itself as one of the top red zone teams in the country this season, but Grice is also among the nation's top red zone rushers as well. Arizona State has been inside the red zone 43 times this season. Grice has carried the football 31 times through seven games and has scored a touchdown a little more than a third of the time with 11 touchdowns when the team is in the red zone - a touchdown total that ties for the national lead with Navy's Keenan Reynolds and Stanford's Tyler Gaffney. Only four other players have more touches inside the red zone than Grice (Reynolds has 39 while three others are tied for 32). Grice's stability inside the 20 has been beneficial to ASU's pass happy offense as ASU ranks fifth nationally with 43 pass attempts within the red zone but have only completed 21 of those (48.8 percent). This is especially notable as Kelly has completed 152-of-236 passes (64.4 percent) everywhere else on the field EXCEPT within the red zone.
AIR RAID In 2012, the Sun Devil offense averaged 32.8 passing attempts per game in games amongst FBS opponents, a tally that ranked 68th nationally. Thus far in 2013 against FBS teams, ASU is averaging 42.2 passing attempts per game - a figure that sits 11th in the country. The number is also notable as ASU is also averaging 25.5 completions per game this season against FBS opponents, and is 12th nationally in the statistic. While some might look at that as a bad statistic or a reflection of a weak running game, but ASU is still moving the ball admirably, averaging nearly 509.1 yards of total offense per game in seven games this season - nearly 50 more yards than it averaged per game in 2012.
THE STREAK GROWS Seniors Evan Finkenberg and Osahon Irabor began 2013 as two of the most seasoned starters in the Pac-12. Only Oregon State's Michael Philipp (43) has more starts than Finkenberg and Irabor, who each have 40. Irabor's statistic is particularly notable as he has started all 40 of his games consecutively - a mark that paces the Pac-12 Conference ahead of Washington State's John Fullington, who has 38.
DON'T LEAVE POINTS ON THE BOARD Every team's offense hits the field hoping to score a touchdown on every drive, but few have been at successful at the task as ASU. ASU ranks has scored a touchdowns on 37 of 92 total drives this season (40.2 percent), a total that ranks eighth among FBS institutions. Baylor leads the nation with 57 touchdowns on 100 drives (57 percent) while only Oregon has done better at earning TDs in the Pac-12, scoring one on 59 of 112 drives this season (52.7 percent).
DON'T FORGET BRADFORD With the incredible season posted by Will Sutton last year, it was almost easy to forget the phenomenal year put forth by Carl Bradford. Playing out of the Devilbacker position, Bradford finished the year with 81 tackles (fourth on team), 20.5 tackles for loss (second on team and 10th-most in school history) and 11.5 sacks. His three forced fumbles tied Sutton for most on the team and his two fumble recoveries tied Deveron Carr for the team lead as well. He also added an interception for good measure. Since sacks started being recording in 1978, only four sophomores in Sun Devil history have amassed 10 or more sacks and Bradford's 11.5 were more than all of them - a list that includes Shante Carver (11/1991), Dexter Davis (10.5/2007) and Terrell Suggs (10/2001). Bradford was one of just five FBS players last season to total 80+ tackles, 20+ TFLs AND 10+ sacks on the year. After a stat-less opener, Bradford is back in the thick of things, posting 27 tackles in the last six contests with 9.5 coming for loss and 4.5 sacks in the process, both numbers leading the team.
A SUTTON IMPACT ASU's consensus All-American, senior Will Sutton, finally got an opportunity to leave his mark against USC, finishing the game with 2.0 tackles for loss and his first sack of the season on USC's first snap of the game. Despite facing double teams nearly every snap this season, Sutton has 22.0 tackles, 5.5 tackles for loss and 2.0 sacks with a fumble recovery and one PBU. Sutton had the best game of the season against Washington, posted 3.0 tackles for loss and a sack in the contest. While quarterback hurries aren't an officially kept stat, a look through the game tapes would show Sutton having his nose in more than a couple plays despite the lack of eye-popping numbers. Sutton posted 23.5 tackles for loss last season (fourth-most in ASU history) and 13.0 sacks (fourth in ASU history).
#DYNAMICDUOPARTDEUX Between Bradford and Sutton, the Sun Devils have formidable a defense duo as any in the nation. Only 10 returning FBS players posted 10+ sacks in 2012. Sutton and Bradford are the only teammates on that list. There were a total of 51 FBS teams that had fewer sacks in 2012 than Sutton and Bradford had combined (24.5). Not since 1978 has ASU had a pair of players post 20+ TFLs and 10+ sacks in the same season (Al Harris 22 TFL/19 sacks and Bob Kohrs 20 TFL/14 sacks). As a team, Boston College only had one more TFL in 2012 than Sutton and Bradford had combined (44.0 TFL for Sutton and Bradford). Only 10 returning FBS players posted 10+ sacks in 2012. Sutton and Bradford are the only teammates on that list. 51 FBS teams had fewer sacks in 2012 than Sutton and Bradford had combined (24.5). Thus far this season, the tandem has combined for 15 tackles for loss, 6.5 sacks, 5 PBUs, one fumble forced and one fumble recovered.
NOT PLAYING COY Chris Coyle put up one of the best seasons in tight end history at ASU in 2012. Coyle finished third in the nation in tight end receptions per game with 4.38. His 57 receptions led the Sun Devils and were a new single-season best all-time for ASU tight ends. Coyle finished with five touchdown catches on the year, one shy of the single-season tight end record set by Miller and Joe Petty. Coyle has 18 catches for 302 yards and two touchdowns to date this season, averaging an solid 16.8 yards per catch. Coyle is seventh in the nation in yardage (302) and ninth in receiving yards per game at tight end, averaging 43.1 yards per contest. Coyle now has 81 career receptions, placing him in a tie for fourth on ASU's career tight end receptions list with Joe Petty.
NOT IN IRABOR'S HOUSE Defensive back Osahon Irabor was a force last year with 14 passes defended on the season to lead the team. The 14 pass breakups in 2012 were the most by a Sun Devil since Justin Tryon had 16 in 2007. Irabor was arguably the defensive player of the game against Wisconsin, leading the team with seven tackles and 2.5 TFLs along with a sack. Irabor currently is fifth on the team with 28 tackles this season. He already has 4.5 tackles for loss this season, an impressive statistic considering he had ZERO in the previous two seasons. Irabor recorded his first interception of the season against USC and followed that up with his first career pick-six against Notre Dame - a 37-yard march to the house which was notable as it was Irabor's fifth career interception but just the first to result in positive yardage after his return against USC was negated by a penalty. He is third on the team with four passes defensed this season. Also notable, after having seven pass interference calls made against him in 2011, Irabor has not had a single pass interference called in his two seasons working on Coach Graham and the current coaching staff.
INTERCEPTION DARBY Alden Darby has made a reputation as a ball-hawking safety during his four years at Arizona State, logging his seventh and eighth interception of his career against USC and recording his second pick-six in the process. He now has 238 all-time career interception return yards, which is the fifth-most interception return yards all-time and is slowly sneaking up on the all-time record of 324 career interception return yards, set by Nathan LaDuke back in 1987-90. Darby, a member of the Lott IMPACT Trophy Preseason Watchlist, was named the Lott IMPACT Player of the Week for the performance and was also honored as the Pac-12 Defensive Player of the Week as well for the effort.
MOVING THE STICKS, AND VICE VERSA On the season, the Sun Devil offense has only gone three-and-out on 22-of-102 drives (21.6 percent), a total that currently ranks tied for 11th nationally. . On the flip side, ASU has forced opponents to 47 three-and-outs on 103 drives (45.6 percent). Washington entered the last contest third-best in the FBS in not allowing teams to force them to three-and-outs, only having nine of them in 77 total drives. The Sun Devils held them to six in the first half alone, and forced them to surpass their season total in one game, holding the potent Husky offense to 10 three-and-outs in the contest. ASU now ranks fourth in the nation this season in forcing defensive three-and-outs at 6.71 per game and their 47 three-and-outs forced this season is the second most among all FBS programs.
INFO-GRAHAM Over his four seasons prior to coming to ASU -- one at Pittsburgh and three at Tulsa -- Todd Graham's teams rushed the ball on at least 53.4 percent of their total plays. In 2008, Tulsa rushed on 61.4 percent of its total plays. The 2012 Sun Devils rushed the ball on 59.1 percent of their total plays. In 2011, ASU rushed 44.5 percent of the time. Over the past seven seasons at Pitt, Tulsa, Rice and now ASU, only one Graham-coached team has ranked outside the top 50 nationally in sacks. In 2011, Pittsburgh averaged 3.31 sacks, which ranked third nationally. The Sun Devils averaged 4.0 sacks per game last year, the second-best mark in the nation. In seven seasons, Graham is 22-20 in true road games. ASU was 3-3 in such games in 2012. In the previous four seasons, ASU was 5-16. In six of the past seven years, Graham's teams have ranked 39th or better nationally in fewest penalty yards per game. In 2008, Tulsa averaged just 37 penalty yards, which ranked 11th in the nation. In 2011, Pitt averaged 39.5, which ranked 18th. The Sun Devils averaged only 34.92 penalty yards per game in 2012 which was good for eighth in the nation.
EXPLOSIVE You'd be hard-pressed to listen to a Todd Graham press conference that didn't involve the word "explosive" at some point as the head coach makes no attempt to hide the fact that that's what he wants his team to be. The Sun Devils have a classification of "explosive plays" that equal a run of 12 or more yards or a passing play of 16 or more yards. ASU has 86 such plays this season (56 passing, 30 rushing), showing a renewed emphasis on the skill of ASU's passing attack after the Sun Devils had a relatively 90 passing explosive plays to 75 rushing explosions last season. Jaelen Strong already has 20 explosive plays as a wide receiver, notable for the fact that Rashad Ross and D.J. Foster each had 18 explosive receiving plays all season in 2012, the highest tally on the team.
USE THEM WISELY Todd Graham doesn't hesitate to use his alotted three timeouts per half when his squad is on defense, a coaching technique that has plenty of detractors. A closer look at the result of the play following those timeouts might quiet some, however. ASU has used 10 timeouts this season with its opponents facing third down. The Sun Devil defense has forced a fourth down on seven of those occassions, doing so twice against Notre Dame.
PROTECT THIS HOUSE With the victory against Washington ASU moves to 5-0 at home this year and 9-2 under Todd Graham with two home games remaining (Oregon State and Arizona). ASU has gone undefeated at home just once in the past 16 seasons (1997-2012), when it was 6-0 in 2004. After 11 games under Todd Graham, the Sun Devils have averaged 46.5 points per game at home, including a 63-point performance against NAU in 2012 and a 62-point performance this season against USC. The lowest score the Devils have recorded at home under Graham is 21 against Oregon last season and have scored 20 or more in 19 consecutive games while playing at home, dating back to 2010.
IN-ZANE IN THE MEMBRANE True freshman placekicker Zane Gonzalez is quietly putting up one of the more impressive true freshman kicking campaigns in recent memory. He leads the Pac-12 with 15 field goals this season as well as leading with 18 attempts. His 83.3 percent total on field goals this season is fourth among kickers with 10 or more attempts. He leads the conference with 2.14 field goals per game and leads the nation in the category while moving to No. 2 nationally in scoring at 11.4 points per game and leads all freshmen players in the FBS in the category. He is on pace to break the total season points by a kicker at ASU, a record currently held by Thomas Weber and Mike Barth (118 points in 2007 and 2002, respectively). He also is already within two field goals of ASU's top-10 list for most field goals in a season. Gonzalez was honored as the Pac-12 special teams player of the week after going a perfect four-for-four on field goals against Washington. He has now made 11 straight field goal attempts and is chasing the school record of 17 set by Thomas Weber in 2007.
SCHOLAR-BALLERS The Sun Devil football team has not only showed impressive strides on the field of play, but also in the classroom. The Sun Devils had 51 student-athletes named "Scholar-Ballers" this past season, meaning they earned a 3.0 or higher GPA for the year. That is 21 more student-athletes than the 2010-11 campaign and 13 more than 2011-12.
DEGREE OF DIFFICULTY One of the more impressive numbers the Sun Devils lay claim to this season will be the eight graduates competing on the roster in 2013. Davon Coleman, Chris Coyle, Evan Finkenberg, Alex Garoutte, Osahon Orabor, Kody Koebensky, Shane McCullen and Marlon Pollard will all compete this season with Bachelor degrees in hand as they complete coursework toward their graduate degrees. More impressive, six of those student-athletes were starters or significant reserves in 2012 and will likely play a large role in things this season as well (Coleman, Coyle, Finkenberg, Koebensky, Garoutte and Irabor).
Copyright 2013 CBS 5 (Meredith Corporation). All rights reserved.