Man knocks out tooth running from black bear
Posted:
Updated: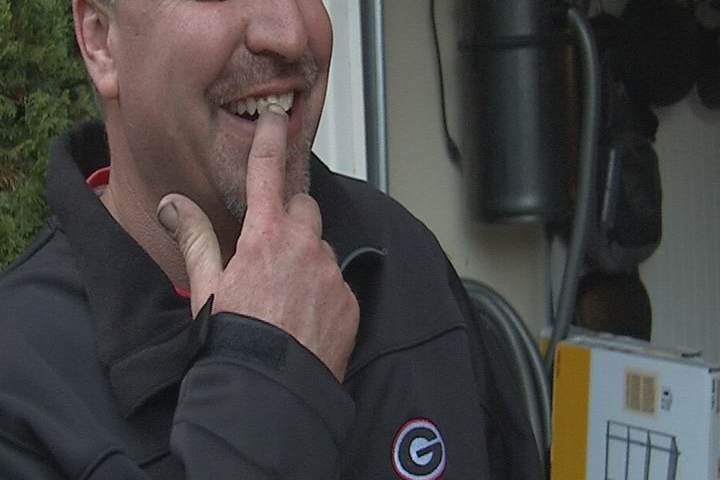 WOODSTOCK, GA (CBS46) -
It was a sequence of events Kevin Smith would like to forget. Smith was taking his trash out two Sundays ago when a momma black bear chased him. What happened next is something Smith will never forget.
"She let out a snort and charged," Smith said.
While taking his trash out, Smith said he noticed two bear cubs eating the scraps on the side of his home. When he looked up, he saw the momma bear. Immediately, she charged him and he sprinted into the garage. But when he turned the corner, he slipped and landed face first into a car parked inside.
"When I fell down I thought this is bad, that bear could have caught me if it wanted to. It was super fast," Smith said. "When I hit that car, it didn't even phase me. I literally ran as fast as you can and face-dived into my car and it hurt bad."
Wounded, Smith ran upstairs. He trailed blood all the way up to his master bedroom as he bled from a cut on his foot and his mouth covered in blood. He woke his wife Karyn and asked for help.
"He was screaming like a girl," Karyn Smith said. "Scared to death, petrified. I kind of thought my big macho man would handle bears a little more differently. But, he ran and fell and chipped his tooth."
A wildlife biologist with the Department of Natural Resources, Adam Hammond, said an acorn shortage is causing black bears to roam into densely populated areas to search for food.
"It is possibly weather related," Hammond said. "There just aren't any acorns on the trees for bears to eat."
The Cherokee County Sheriff's Department said that at least eight bears have been hit and killed on the roadways in as many weeks. Three bears were hit and killed on Interstate 575. Lt. Jay Baker said that number could be higher because most motorists are not reporting the bear strikes.
"We have had so many, it is very unusual," Baker said. "If you hit a bear, it's not going to be your fault. They are hard to see, normally it's at night. Just call 911 and we will come out and work the accident."
A representative with DNR said homeowners should keep all food sources and trash indoors to keep bears away. Hammond said because of the lack of acorns, residents in the metro area could see more and more bears through December. Normally, bears will go into hibernation in late November, but the shortage might push that back.
Kevin Smith said until he knows for certain that the bears are hibernating through winter, he is going to make a lot of noise every time he leaves his house.
"I come out and I make loud noises, saying, 'Hello, I'm coming out, I am scarred for life,'" Kevin Smith said. "I just hope the neighbors don't hear me and think I'm crazy."
Copyright 2013 WGCL-TV(Meredith Corporation). All rights reserved.