New
$1,000 reward offered for man who cut off puppy's ears
Posted:
Updated: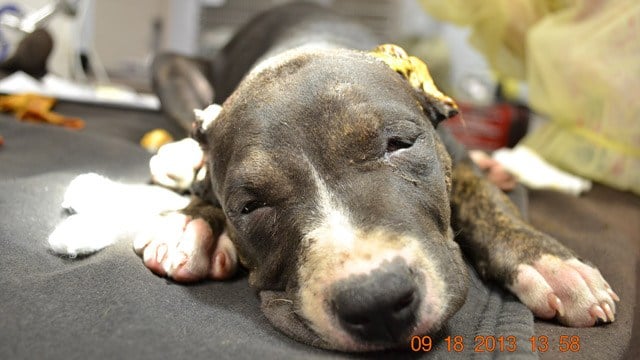 (Source: Silent Witness)
PHOENIX (CBS5) -
A four-month-old puppy who had its ears cut off in what can only be described as a horrific case of animal abuse now has a new forever home.
"My heart just broke," said Kellie Bell about seeing the puppy she named Bella for the first time. "It just broke in two. And I just instantly loved her. We both did."
Bell said she and her boyfriend couldn't resist Bella's precious face.
They adopted the pit-bull mix and another puppy from the Arizona Humane Society two weeks ago.
"To see her little face looking up at us; it's like, my gosh, we love her so!" said Bell.
Until then, Bella had a hard life.
The Arizona Humane Society rescued the neglected and abused puppy from her former home in September and named her Brooke.
"It's just horrid," Bell said about her puppy's old life. "It's evil to treat an animal like that."
Phoenix police said Bella's original owner told them he was walking the puppy near 26th Street and McDowell Road on Sept. 16 when he was approached by a man who offered to crop her ears for free.
The owner agreed.
"This was not a sanitary condition," said Sgt. Darren Burch with Silent Witness. "This wasn't a controlled environment. This was in a parking lot with a box cutter and scissors. This was horrific. "
Bell said the details of the abuse are almost too much for her to bear.
"I can't imagine her screams," she said. "I just can't imagine that."
Bella's former owner gave police a good idea of what the suspect looks like.
He's described as a bald, Hispanic man in his 30's with skull tattoos on each side of his head, three tattooed dots near his left eye and a goatee.
The suspect, whose name might be Robert or Roberto, was last seen walking a full-grown brown pit bull with a white chest and disfigured ears.
"I think it's horrible," Bell said about the pain this person caused her puppy. "And if I could do the same to them - I'd like to be able to do that."
While Bella is a happy puppy now, she still faces a lifetime of potential ear infections and hearing loss due to her injuries – and Bell wants justice for her pet.
"There's got to be someone out there that knows who did this to that baby," she said.
If you know who's responsible for abusing Bella – who might have gone by the name of Precious at the time – call Silent Witness at 480-948-6377.
A $1,000 reward is offered for information that leads to an arrest.
Copyright 2013 CBS 5 (KPHO Broadcasting Corporation). All rights reserved.