UPDATE
Mother of Peoria blast victim: I couldn't tell it was her
Posted:
Updated: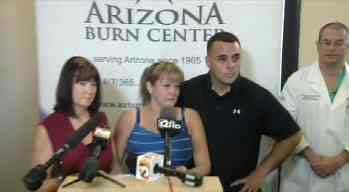 Families of burn victims. (Source: CBS 5 News)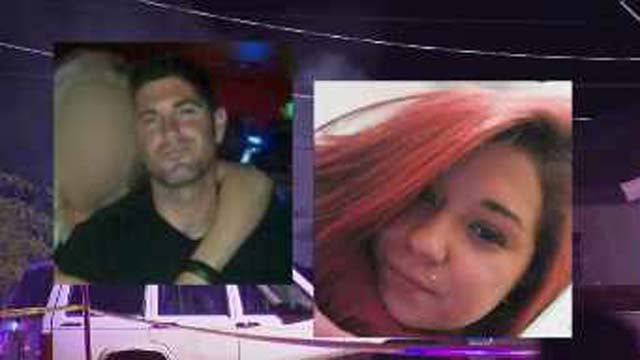 Beau Zimbro and Tiara del Rio (Source: CBS 5 News)
PHOENIX (CBS5) -
Doctors at the Arizona Burn Center said a couple severely burned in a Peoria home explosion on Oct. 16 are recovering.
They said 21-year-old Tiara del Rio and 32-year-old Beau Zimbro are in drug-induced comas for their own comfort and will be in the hospital for at least two months.
Both have undergone skin-graft surgery.
Tuesday, their families spoke with CBS 5 News about the tragedy.
"Tiara says she lit a candle and then the house exploded," said her mother, Christina del Rio, through tears.
Doctors said Tiara del Rio has deep, second-degree burns to 53 percent of her body.
"I was trying to look for something to try to tell me it that was my daughter because I couldn't tell," said Christina del Rio about seeing her daughter in the hospital for the first time.
Tiara del Rio's brother, a service member who rushed home from an overseas deployment, said a tattoo on her wrist helped to identify her.
"My mom and sister actually have matching tattoos on their wrists - heart tattoos - and that's what she ended up finding on my sister to be able to really realize that it was actually her," said Ryan Lewis-Turk.
Christina del Rio called Zimbro a hero for saving her daughter's life.
"They were both on fire, and he carried her," she said. "He picked her up and he carried her out of the house."
Doctors said Zimbro also has second-degree burns to 60 percent of his body, but they aren't as deep as his girlfriend's.
"He's a strong kid, and he'll make it through it," Marie Zimbro said about her son.
Doctors said that because both patients are young and healthy, their prognosis is good.
Family and friends have set up accounts at gofundme.com and donateto.com to help with Tiara del Rio's medical bills.
Two fundraising car washes are planned for Saturday.
One begins at 9 a.m. on the northeast corner of Peoria and 75th avenues.
The other starts at 10 a.m. on the northeast corner of Peoria and 59th avenues.
Meanwhile, investigators said a ruptured gas line in the couple's backyard led to a buildup of natural gas.
They're still looking into what ignited those fumes.
Copyright 2013 CBS 5 (KPHO Broadcasting Corporation). All rights reserved.