Federal forest thinning funds expected to be cut by millions
Posted:
Updated: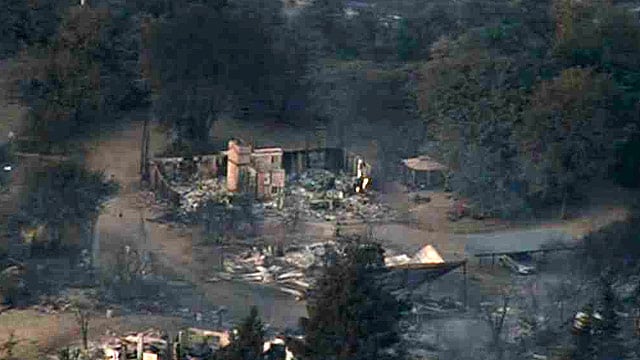 © June's Yarnell Hill Fire destroyed 100+ homes
PHOENIX (CBS5) -
When lightning sparked a fire on Yarnell Hill in June, the wildfire spread fast and hot. The blaze claimed hundreds of homes and killed 19 firefighters.
Following an investigation, experts suggested forest overgrowth was a principal reason why the fire spread out of control within a matter of hours. So why is the federal government cutting a key part of the U.S. Forest Service budget?
Hazardous Fuels Reduction Projects, also known as forest thinning, have served a major role in reducing the risk of a destructive wildfire before it starts but over the last few years, Congress has cut funding to these projects.
In 2012, $183 million was earmarked for Hazardous Fuels Reduction. However, the president's Office of Management and Budget proposed cutting that funding to $96 million for fiscal year 2014.
The overall budget for the U.S. Forest Service will likely increase but much of that funding will focus on fighting wildfires, according to a White House spokesperson:
"The Administration has emphasized targeting hazardous fuels treatments on high-risk areas so that we reduce risks to the health and safety of the public and protect communities. And we are investing in further research to determine which treatments are most effective in order to better target funding in the future.
"While the FY 14 Budget calls for increasing overall funding for wildfires, deep cuts to discretionary funding are always going to force difficult decisions. As a result, this Budget focuses resources on the most critical firefighting needs and on activities to reduce risk in places closest to where families live and work."
In Yarnell, many residents have come to the consensus that the deadly fire in June could have been prevented if federal and state lands were maintained and thinned.
"They've done the best they can but I think more can be done," Yarnell property owner Becca Jackson said.
Months after the fire, Jackson says there are still several areas of concern which could develop into another wildfire under the right conditions.
"I have to go up there and clean my property just to keep the fire hazard down on my property," Jackson said. "So what's going on in the [federally owned] forest?"
Former wildland firefighter Jim Paxon believes it would be more effective to fund a proactive approach and tackle forest overgrowth before the fires start.
"We need to fund the hazardous fuels reduction and the firefighters," Paxon said.
Paxon says fires have spread faster and hotter since the 1960s and believes there's a direct correlation with decreased funding for forest thinning.
In 2012, only 2 million acres were pretreated, the lowest acreage since 2003 when 1.3 million acres were treated.
Paxon says since the numbers are down, there should be a greater need to pretreat forests before a fire strikes.
"We lost 33 homes in the Wallow Fire but if thinning hadn't been done, we would've lost several hundred homes," Paxon said.
Since 2002, the Forest Service has exhausted funding sources normally used for fire suppression seven times and was forced to borrow a total of approximately $3.3 billion just to address active fires.
Some members of Congress say forest thinning must be addressed to be fiscally responsible. The cost of thinning is much less than the cost of fighting wildfires.
Republican Congressman Paul Gosar represents Arizona's Fourth District, encompassing the area of the Yarnell Hill Fire.
"If you would've spent a dollar thinning, it would've saved you almost $18 in mitigation fees," Gosar said.
Gosar suggests bringing the private timber industry back into areas that desperately need hazardous fuels reduction but with that, comes a lot of red tape and it could take years to become effective.
While budget talks in Washington are on hold, the U.S. Forest Service is working with reimbursed funds under the continuing resolution. If the proposed budget does pass with cuts to hazardous fuels reduction projects, experts fear fires could spread faster, hotter and could get more expensive for taxpayers to put out.
For more on this story and other stories around Arizona from this author, follow Shawn Kline on Facebook and Twitter.

Copyright 2013 CBS 5 (KPHO Broadcasting Corporation). All rights reserved.
Federal forest thinning funds expected to be cut by millions

More>>

Tuesday, July 23 2013 11:06 AM EDT

2013-07-23 15:06:41 GMT

SLIDESHOW: U.S. Drought Monitor Find wildfires near you Arizona fire restrictions, closures Arizona Department of Insurance Arizona emergency information network wildfire news Wildfire safety

More >