AZ faces shortage of O-negative blood, donors needed
Posted:
Updated: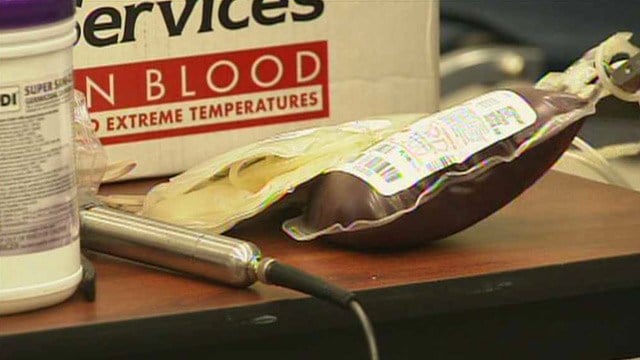 (Source: CBS 5 News)
PHOENIX (CBS5) -
A statewide shortage of O-negative blood has United Blood Services issuing an urgent plea for donors.
The blood type O-negative is the universal blood that can be substituted for all other types in emergencies, according to a UBS news release.
As of Monday morning, only 16 units were available to the state's 58 hospitals, or 93 percent below desired levels.
About 13 percent of all red-cell transfusions require O-negative blood, according to the release. Only 6 percent of the population has this blood type.
UBS said it has exhausted all out-of-state resources and is asking donors to give this week.
O-negative blood is used to stabilize patients until their respective blood types can be determined and their conditions stabilized and is routinely used when premature babies and infants under 6 months old require lifesaving transfusions.
For an appointment, call toll free 1-877-UBS-HERO (1-877-827-4376) or visit www.BloodHero.com for more information.
UBS Donor Centers are open 10 a.m. to 7 p.m. Tuesdays and Wednesdays, 10 a.m. to 5 p.m. Thursdays, and 7 a.m. to 2 p.m. Fridays and Saturdays.
UBS Donor Center locations are:
Chandler: 1989 W. Elliot Rd., No. 3 (Elliot and Dobson)
Glendale: 18583 N. 59th Ave., No. 113 (59th Ave. and Union Hills)
Goodyear: 14270 W. Indian School Rd., Unit C-8 (Indian School and Litchfield roads) - Closed Fridays
Mesa: 1337 S. Gilbert Rd., No. 101 (Gilbert and Hampton)
Phoenix: 5757 N. Black Canyon Hwy. (Bethany Home Road and I-17)
Scottsdale: 15170 N. Hayden Rd., No. 6 (Hayden and 83rd Place)
Copyright 2013 CBS 5 (KPHO Broadcasting Corporation). All rights reserved.