Demolition on Manchester building destroyed by fire delayed again
Posted:
Updated:
By Joseph Wenzel IV, News Editor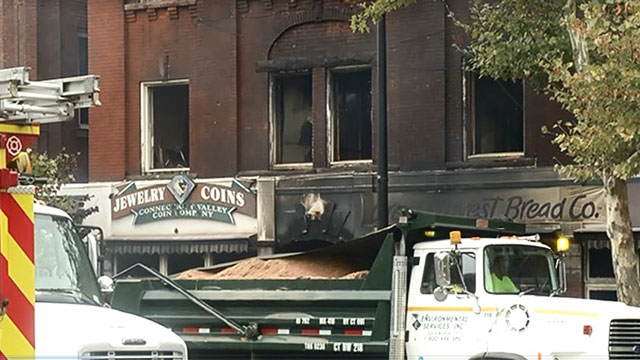 MANCHESTER, CT (WFSB) -
A historic building destroyed by a devastating fire nearly a week ago was expected to be demolished on Friday night, but it was halted. The demolition will begin 6:30 a.m. on Saturday.

Fire ripped through a historic building at 801 Main St., which was home to more than 20 apartments and two businesses - the Great Harvest Bread Company and Connecticut Valley Coin Saturday night.
Flames swept through the building, which was built in the early 1900's, and was smoldering for days.
Demolition on the building started Sunday night, but has been halted multiple times.

Fencing was put up around the property in preparation for the demolition earlier this week.

Before demolition could begin, crews cleared the debris from the site. The demolition work began around 6 p.m. Friday, but was halted by 7:15 p.m.

Residents next to the burned-out building needed to leave their homes until after the building is brought down because of safety issues.
"As far as I know, the fire marshal told us our building has been cleared by the engineers and cleared by the fire department as structurally sound, so that's even more frustrating to know that our home is OK and we still can't get in it," Diane Burke said.
Once demolition begins, the 800 block of Main Street will be southbound only, and northbound traffic will be detoured down Oak Street.
"I was in bad shape Sunday morning," said Dale Roberts.
Eyewitness talked with Jean and Dale Roberts, who are the owners of the Great Harvest Bread Company, on Friday.
"Everything is in flames, but we could see our sign," said Jean Roberts. "And throughout the night as it went on and on we still saw our sign."
On Friday, the sign was returned to the Roberts.
"You know, you get teary eyed," Dale Roberts said. "You're sitting there at the kitchen table but like I told everybody else, the sun came up and I said, 'hey, it's a new day.'"
During off-season, the Great Harvest Bread Company would bake up to 250 loaves of bread a day. During the holidays, that number jumped to about 1,800 loaves. Some of those holiday loaves were for profit, but much of it was donated.
The Roberts said they're not sure when, they're not sure where or even how, but they will be back. And when they re-open, the sign will be there.
"It gives us hope," Dale Roberts said. "It definitely gives us hope."
Copyright 2013 WFSB (Meredith Corporation). All rights reserved.