Arrest papers detail vodka, rehab for mom, who fell asleep in tub with baby
Posted:
Updated: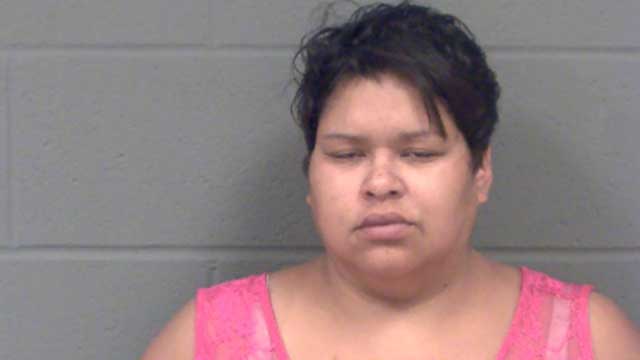 The following photo of Erin Lujan was provided by the New Britain Police Department.
NEW BRITAIN, CT (WFSB) -
Eyewitness News obtained the arrest warrant for a mother of five, who is accused of falling asleep in the tub while giving her little 7-month-old girl a bath. The child drowned before the she woke up.
Erin Lujan's family told Eyewitness News she fell asleep with the child in the tub because she was tired. However, police documents paint a different picture and suggest alcohol may have played a bigger role than initially thought.
On Sept. 21, while her husband was off at work, Lujan was trying to calm her daughter down at the Washington School Apartments on High Street in New Britain.
So she decided to give her a bath.
According to court documents, Lujan had just gotten out of rehab and immediately began drinking. Police said she planned on drinking again, even after her baby's death.
"Lujan had told a friend that she used this 'rehab' as an escape from the stress of her husband and not as a source of rehabilitation," police said, according to court documents. "Lujan has documented history of alcohol problems dating to at least 2007 and admitted to having smelled cleaning products in the past."
Lujan told police she checked into Mount Sinai Rehabilitation Hospital in Hartford on Sept. 16. Four days later, she returned home. The next day, the drowning happened.
When Lujan returned from rehab that afternoon, she said she began drinking cranberry vodka around 3:45 p.m., court documents stated.

Less than three hours later about 6:30 p.m., she told police she finished the bottle and put her baby to bed.
But what her husband told police isn't adding up. He told police around the same time, his wife asked him to buy another a bottle of vodka. He told police he saw her drinking until he went to bed sometime between 9 and 11 p.m. The first 911 call around 7:58 a.m.
According to court documents, a neighbor said when he made his way into the apartment, water was pouring into other rooms.
The neighbor said Lujan was still in the tub patting the baby on the back, but the infant did not seem to be breathing. Police said when they began searching through the house, the couple came in.
"Esquipula (Lujan's husband) was holding a case of beer and Lujan was holding a bag which she acknowledged contained a bottle of vodka... Lujan responded that she 'needed something,'" court documents stated.
According to the warrant, this was just 10 hours after their youngest child had died.
Lujan's four other children are now being cared for by Connecticut Department of Children and Families.
Copyright 2013 WFSB (Meredith Corporation). All rights reserved.