Police: Multiagency investigation leads to auto theft crime ring bust
Posted:
Updated: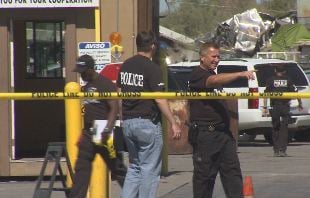 PHOENIX (CBS5) -
Deputies spent all of Wednesday serving search warrants in a major auto theft crime ring bust they call "Operation Tin Man."
They gathered evidence at five metal recycling yards all day, and said 12 defendants operated this illegal crime ring - and they weren't just in the business of stealing cars.
One target of their search was Hendrix and Company Recycling.
"Our primary goal was to identify, infiltrate and dismantle the Hendrix criminal syndicate," said Director Robert Halliday with the Arizona Department of Public Safety.
"There are four cases that have been charged out of this investigation, involving employees of Hendrix Recycling Company, as well as family members of the Hendrix family," said Maricopa County Attorney Bill Montgomery.

It all started about 15 months ago, when Phoenix police began investigating a string of car thefts.
"Auto theft is a crime that facilitates many other crimes in this state," said Brian Salata with the Arizona Autombile Theft Authority.
On Wednesday morning, they served more than a dozen warrants at different businesses and residences in Phoenix, Coolidge and Tucson.
"They were taking in stolen vehicles. They were taking in stolen metals," said Sgt. Tommy Thompson with the Phoenix Police Department.

Investigators said the ring was also involved in money laundering, selling drugs, check fraud, insurance fraud and trafficking stolen property.
"Taking this criminal syndicate is going to have a tremendous affect on auto thefts. It's going to have a tremendous affect in other segments of part one criminal offenses, including drugs," said Phoenix Police Chief Daniel Garcia.

Officials tell us some of the defendants - whose names have not yet been released - have already been indicted, and $2.9 million in assets have been seized.
Copyright 2013 CBS 5 (KPHO Broadcasting Corporation). All rights reserved.