Anthem to host Veterans Parade, ceremony
Posted:
Updated: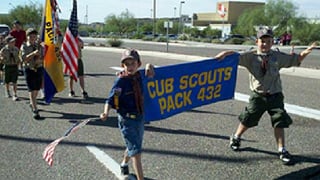 Daisy Mountain Veterans Parade set for Nov. 9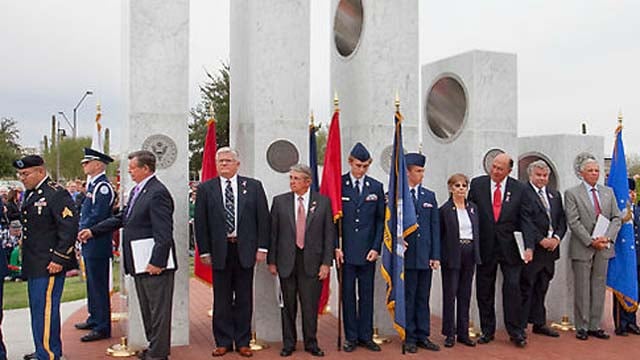 Veterans Day Ceremony at Anthem Veterans Memorial set for Nov. 11
ANTHEM, AZ (CBS5) -
The Daisy Mountain Veterans organization will hold its Annual Veterans Parade in Anthem on Saturday, Nov. 9 to honor all those who have served in our nation's military.
On Monday, Nov. 11, retired Adm. Vernon E. Clark will deliver the keynote address at the Veterans Day Ceremony at the Anthem Veterans Memorial at 10 a.m. A special charity drive to benefit veterans in need has been added to the this year's event.
The ceremony is presented by the Daisy Mountain Veterans, an alliance of the local Veterans of Foreign Wars Post 12031, the American Legion Post 128 and the American Legion Auxiliary Unit 128.
The Memorial was dedicated Nov. 11, 2011 and received Arizona Historic Landmark status six months later.
The five pillars, symbolizing the five branches of the Armed Forces, are designed with elliptical openings. At 11:11 a.m. on each Veterans Day, the sun's rays pass through the openings to cast a perfect shadow around a mosaic of The Great Seal of the United States.
People who attend this year's ceremony are asked to bring new toiletries and canned food with them to assist veterans and their children in need. The collected goods will be given to Veterans First, Ltd., dedicated to solving issues affecting homeless and at-risk women veterans for appropriate distribution.
Veterans First collaborates with federal and state Offices of Veterans Affairs, government agencies, shelters, housing agencies, nonprofits, community and veteran organizations, groups and clubs to provide assistance to assist women veterans.
Clark completed a distinguished 37-year Navy career in 2005. His Navy experience spans his early days in destroyers, command of a Patrol Gunboat as a lieutenant and concluded in the halls of the Pentagon as the chief of naval operations and a member of the Joint Chiefs of Staff.
In between, he commanded ships, two destroyer squadrons, the Atlantic Fleet's Anti-Submarine Warfare Training Center, a Carrier Battle Group, the Second Fleet, NATO's Striking Fleet and the Atlantic Fleet.
A cannon will be fired at 10 a.m. on Nov. 9 to mark the start of the Daisy Mountain Veterans Parade. [Click here for the parade map]
The Daisy Mountain Veterans Parade Committee has chosen Korean War Veterans (June 1950 to July 1955) as the Grand Marshals.
Organizers are partnering with Toy for Tots so all donations would be appreciated. There will be drop boxes along the parade route. [Click here for additional parade information]
More than 2,000 people marched in last year's parade.
Copyright 2013 CBS 5 (KPHO Broadcasting Corporation). All rights reserved.