Tennis completes day one of Wildcat Invitational
Posted:
Updated: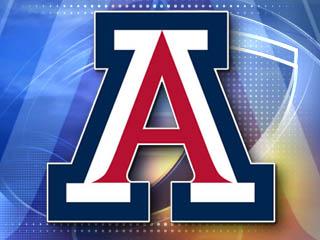 © cbs 5
PHOENIX (CBS5) -
Arizona women's tennis had a strong showing on day one of the Wildcat Invitational at the El Conquistador Golf and Tennis resort on Friday.
All Wildcats won their first round singles matches, while senior Akilah James, junior Laura Oldham, sophomores Inge Hendrikx and Shayne Austin, and freshman Lauren Marker all advanced to the third round.
James defeated Marie Leblond 6-0, 6-1 and Jacobea Junger 6-4, 6-4, Oldham defeated Kristen Poei 6-2, 6-1 and then defeated Meredith Hopson 6-2, 6-4.
Hendrikx defeated Daniela Garcia-Diaz 6-2, 6-0 and then Tatum Rochin 6-1, 6-2. Shayne Austin had a bye in the first round and then defeated Susan Baklini 6-3, 6-3. Marker won her match over Miranda Poile 6-1, 6-2 and then defeated Mari Taslagyan 6-3, 6-1.
"We started off great, taking nine out of 11 singles matches and all three in doubles," assistant coach Nick Dargene said. "I couldn't ask for a better start. For some of them it was their first tournament of the season. I'm very pleased with what we've seen so far."
The Wildcats started off the day by winning all three of their doubles matches. The tandem of Oldham and senior Susan Mc Rann defeated Corrine Schnyder and Mari Taslagyan, 8-2.
James and Marker defeated Lina Hallgren and Alena Schichkova 8-2 and Hendrikx and Austin defeated Jamie Michau and Miranda Poile, 8-4. Arizona is hosting the fall tournament for the first time in program history.
"El Conquistador is a beautiful facility," said Dargene. "It is very fan-friendly and you get a good view of all the courts anywhere you look. They've been wonderful to work with and they've gone the extra mile to help make it run smoothly."
The tournament will continue on Saturday Oct. 12, 2013 beginning at 9 a.m., with doubles matches followed by the third round of the singles matches.
Live stats will be available at http://stats.statbroadcast.com/statmonitr/?id=36779.
For immediate results and continued coverage of Arizona Women's Tennis, visit ArizonaWildcats.com, or visit the Arizona Women's Tennis Facebook page, or follow @ArizonaWTennis on Twitter and Instagram.
Copyright 2013 CBS 5 (Meredith Corporation). All rights reserved.