Study: Infants who take swim lessons do better in school
Posted:
Updated: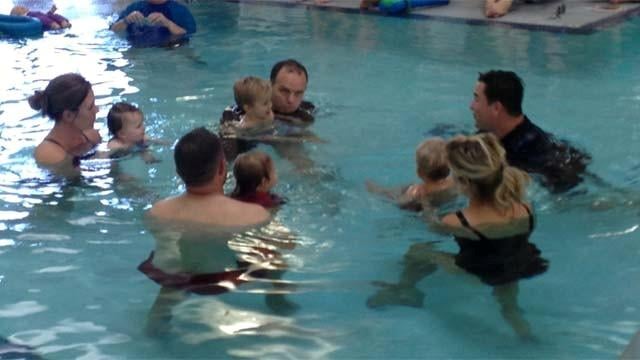 MESA, AZ (CBS5) -
On Tuesday afternoon, a group of infants took a dip at the Hubbard Family Swim School in Mesa.
Kaci Lint couldn't wait to get her nine-week-old son Ollie in the water after enrolling his older brother in swim lessons two years back.
"My first class with my older son, I was definitely one of the nervous parents. But with this one, it was just really exciting. We wanted to know how soon we could start him," said Lint.
For decades, pediatricians looked down on children younger than four years of age taking swim lessons. But in the last couple of years, that's changed. Now a study by Griffith University in Australia shows many benefits of properly introducing infants to the water. The biggest one has to do with their readiness for school.
"They're 15 months ahead in social and emotional development by four years of age. They're six months ahead in physical development and ten months ahead in cognitive development," said Julie Zancanaro with Hills Swimming Babies and Toddler Program in Sydney, Australia.
"My child that we started is two now, and cognitively he's above the board. He's a lot more interested in following directions because it's really important with the safety of the pool that you listen. He does what you ask. He stays still. It's kind of impressive," said Lint.
Swim lessons are also beneficial for children with disabilities. Two-year-old Colton Hecker was born blind. Currently, he can't walk or speak. He started swim lessons when he was six weeks old.
"Watching Colton and some of the therapies that he's in and how comfortable he is, I believe that the water's helped him in his physical therapy," said Colton's mother, Simona Hecker.
Hubbard Family Swim School offers free lessons for children ages two months old to six months old.
Copyright 2013 CBS 5 (KPHO Broadcasting Corporation). All rights reserved.