CBS 5 Advocate
You may have unclaimed cash at missingmoney.com
Posted:
Updated: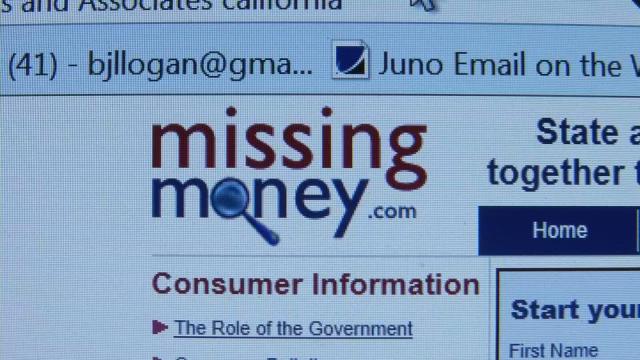 MESA, AZ (CBS5) -
Many Arizonans have unclaimed treasures they don't even know exist. Plenty of companies will help you find it for a fee, but here's how discover your treasure yourself and keep it all.
It usually comes as a strange letter in the mail, someone telling you you've got hundreds, maybe even thousands of dollars just waiting to be claimed. No, this is not a scam. Many times you really do have the money, but you should never pay anyone else to find it for you.
"I'll be glad to get it, Christmas is coming," Beverly Jo Logan said.
Logan got some money in the mail - sort of. A company called Joseph Richards & Associates claimed to have found $1,300 owed to her by MetLife from a Colorado insurance policy in the 1960s. The firm would be happy to send her the money under one condition.
"I would have had to sign a contract with them, to pay them 15 percent of what I received," Logan said.
Logan wanted to know if this was a scam. I showed her a website where she could find out. www.missingmoney.com matches money sitting in state coffers nationwide with the people it may belong to. We typed in Logan's name and she was on the list, and so was the money owed to her from MetLife.
"I was excited to find out that maybe that money was there waiting for me to claim it," Logan said.
Logan answered four identity questions and claimed her cash. All she has to do now is fill out a Colorado Treasury form, send it in with proof of identity, and they should mail her a check. Anyone can find money in this way. It's exactly how companies like Joseph Richards do.
"Why should we pay someone else to do something that we can do ourselves?" Logan asked.
Logan has thoughts about that 15 percent finder's fee as well.
"That's how they make money, but it's our money, and we don't need to share it with them," Logan said.
The money that ends up in state coffers nationwide comes from many places. It may be an old utility deposits you forgot to collect when you moved, cash left in bank accounts, or, as in this case, dividends paid on old insurance policies. After the money goes unclaimed for a period of time, companies must send it to the state, where it's held until the rightful owner comes to collect it.
Bottom line: Don't pay money to get money that you can claim on your own for free at www.missingmoney.com.
Copyright 2013 CBS 5 (KPHO Broadcasting Corporation). All rights reserved.