Fake missing person fliers stir up controversy at haunted house
Posted:
Updated: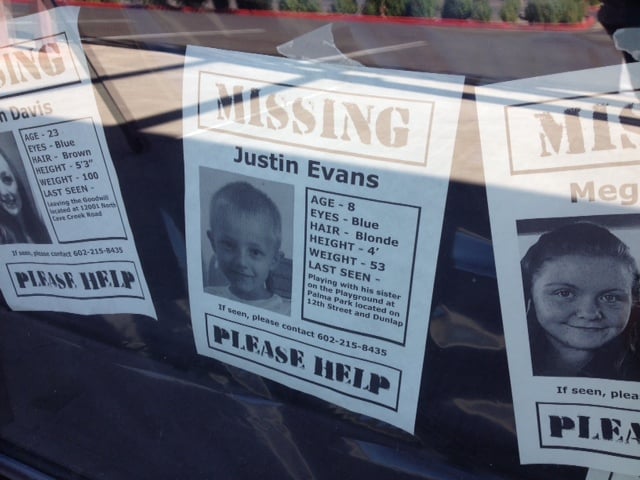 (Source: CBS 5 News)
GLENDALE, AZ (CBS5) -
A West Valley haunted house may have gone too far when it comes to Halloween fun.
Kim Pasqualini, founder of the National Center for Missing Adults, reached out to CBS 5 News Wednesday to express concerns over what she saw at Jack & Jill's Haunted Hill at 51st Avenue and Bell Road in Glendale.
Dozens of fake missing person fliers are plastered across the front windows.
"It really is crossing the line for families of real missing persons, who spend every single day not knowing if their loved one is alive or deceased," said Pasqualini.
One of the fliers shows 8-year-old Justin Evans, last seen playing with his sister on the playground.
Another flier has the picture of 11-year-old Kayla Baggat, who reportedly disappeared after a soccer game.
Shortly after Pasqualini spoke to CBS, the owner of Jack and Jill's Haunted Hill came out to meet with her.
Keith Jackson explained that all of the people in the fliers are performers who have disappeared as part of their Halloween show.
"These are all our actors here, that are actually in the haunted house," said Jackson. "They've gone missing in a mine and we're sending people in to find them."
Jackson insisted that the fliers were never intended to upset anyone.
"It was never meant to offend," said Jackson. "It was just meant to add to the story, and the suspense and the fear that we try to create each night."
Pasqualini said that she would prefer the fliers come down, but understands that they are part of the show.
Jackson has agreed to dedicate an evening this month to passing out real missing person fliers and raising awareness for the thousands of people who disappear each year.
Jack and Jill's Haunted Hill has been putting up fake missing person fliers for the past five years, and this is the first time anyone has complained, Jackson said.
Doors open for the first show Friday night.
For more information visit http://jackandjillshauntedhill.com/
Copyright 2013 CBS 5 (KPHO Broadcasting Corporation). All rights reserved.