ASU students sort through SRP trash
Posted:
Updated: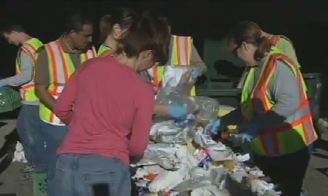 PHOENIX (CBS5) -
Today, students from Arizona State University's School of Sustainability sorted through trash tossed by Salt River Project employees. But why?
"To really understand and be aware how we're contributing to the waste of our surrounding environment," said ASU student Delany Broome.
In this waste characterization study, students place waste in bins by category which is then analyzed to determine what could have been recycled or reused. SRP sees this study as an opportunity to see what they're doing right, and where they can improve.
"Just being here, sorting through the trash, you just are kind of realizing, 'wow, this is compostable, maybe I should be looking into composting'," said Broome.
Aluminum cans, plastics and paper products were among the many recyclable items found in the SRP trash.
"It's been a really good experience for myself just to be more mindful of what I'm doing on my own and what I am throwing away," added Broome.
"Consistent reaction is 'oh my gosh, I didn't know we were throwing these kinds of things away'. It's a bit of a moment of awakening," said Dan O'Neill with Sustainability Solution Extension Service.
The students will now write a report with recommendations for best practices as well as cost-beneficial recycling programs at SRP.
Copyright 2013 CBS 5 (KPHO Broadcasting Corporation). All rights reserved.