ASU offers free bike valet service
Posted:
Updated: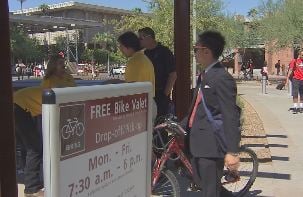 TEMPE, AZ (CBS5) -
Unfortunately, bicycle theft does happen from time to time at ASU.
"We have a huge biking community, right around 10,000 bikes can be on campus at any given time. Because of that, we have a lot of outsiders that come in and try and take those bicycles," said ASU police officer Brian Kiefling.
To combat theft, the Commuter Options division of ASU's Parking and Transit office developed a bike valet service. Located next to Memorial Union, students simply ride up to the valet, sign in, receive a ticket and leave their bike. Many students don't know this service exists.
"It's still growing, because every day, they're like 'Oh, we didn't even know this was here, so I'm finally just learning about it and know that I know, I'm going to use it because I have an expensive bike and I don't like locking it up where nobody's watching it'," said valet attendant Lindsay Bresnahan.
The bikes are parked in an enclosed area and watched closely by valet employees for most of the day. After hours, employees will lock up any remaining bikes, which students can retrieve by calling parking and transit services.
"I've had a bike stolen before, so I like to bring it here where I know they're watching over it and I don't have to worry about somebody snipping my lock real quick," said ASU student Zach Lowe.
And unlike your car, don't even think about tipping the attendants.
"No, we cannot accept money or anything like that. But food's good, food is always welcome," joked Bresnahan.
Copyright 2013 CBS 5 (KPHO Broadcasting Corporation). All rights reserved.