Avila nursing graduate killed in Colorado rock slide
Posted:
Updated: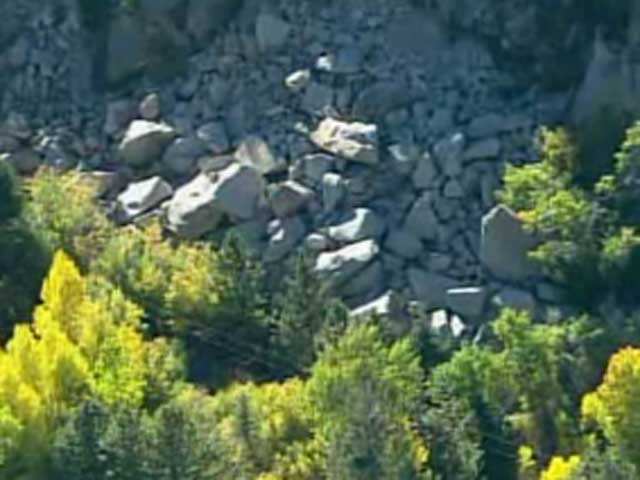 Rock slide in Colorado (CNN)
DENVER (KCTV/AP/CNN) -
A rock slide on a popular trail for families claimed the life of five hikers, including a recent graduate of Avila University's nursing program. A 13-year-old girl survived when her father used his body to shield her.
The bodies of her parents, older sister and two cousins were recovered Tuesday. One of her cousins was Paris Walkup, who also lettered in football for four years at Avila. In May, he graduated cum laude from Avila with a bachelor of science degree in nursing.

The university held a prayer service on the football field before practice Tuesday. A mass at 4:30 p.m. Wednesday will be said in Walkup's memory and for his grieving family. The football team will wear stickers on their helmet with his initials in Walkup's honor for the remainder of the season.

"So many prayers are needed. Most of all for the family suffering through this devastating loss," according to a statement from Avila.
Avila officials said Walkup was "a wonderful young man" and is mourned by many including the football coaches, teammates, nursing students and faculty.
"Paris touched the lives of many on this campus," the university said.
Avila head football coach Justin Berna said he was a great scholar athlete. A wide receiver from Mountain View, MO, Walkup wore #2 and was a team captain who was a positive role model.
"You wish you had a hundred of him," Berna said. "You hear that cliche, but it's the truth . . . He's a guy you could rely on."
He said players are taking Walkup's death very hard.
"It's very difficult. Hopefully it's something we can take day by day," he said.

On his LinkedIn.com profile, Walkup wrote that he was "a dedicated, personal team member focused on learning and problem solving to help patients achieve health and wellness." He said he planned "on working on the floor for a couple of years" before continuing his education in hopes of becoming a family nurse practitioner.
He worked part time at Mattress Firm. He also did carpentry work.
Karli Lapointe, who graduated with Walkup, said he will be sorely missed.
"He was always looking for the next adventure. He was so full of life," she said. "Even though he was only 22, he lived a full life."
She said Walkup loved traveling to Colorado and hiking the trails.
"He died doing something he loved," she said.

The rock slide happened late Monday morning in the mountains southwest of Denver. Some of the boulders were the size of vehicles, and the ground was unstable from recent torrential rains.
Rescuers pulled Gracie Johnson free from the rocks. She was airlifted to Denver's Children Hospital where she is receiving treatment for a severely broken leg.

Gracie's parents, Dwayne and Dawna Johnson, were both coaches at Buena Vista schools. They were with Grace at the time along with their 18-year-old daughter, Kiowa-Rain Johnson. Walkup and the fifth victim, Baigen Walker, were the couple's nephews and were visiting from Missouri.
The Johnsons were active in community and school events.

Chaffee County sheriff's deputies rescued Gracie from the debris Monday after tons of rock careered down on a vantage point looking up on Agnes Vaille Falls in Nathrop, CO. The site, which is in Pike and San Isabel National Forest, about 120 miles southwest of Denver.
In an interview with ABC's Good Morning America, Sheriff's Deputy Nick Tolsma said the girl told rescuers her father saved her life.
"The true hero here is her dad," Tolsma told the ABC show. "She said her dad jumped on top of her to protect her right at the last moment when the rocks were coming down."
The site of the slide is still very unstable and no one is allowed in the area other than the authorities.

Undersheriff John Spezze said he believed crews will be able to retrieve the bodies on Tuesday, after rocks thaw from their overnight freeze - reducing the chance of further rock slides.
"We've got a job to do. We need to do it," Spezze said.

The trail leading to the falls is a relatively easy one, according to the U.S. Forest Service, making it popular with families. However, rock slides are apparently relatively common near the trail, according to hiking website Alltrails.com.
Boulders exceeding 100 tons crashed into a viewing area a half-mile up a popular day hike area, Spezze said.
The slide left a football-field-sized gash below Mount Princeton, a 14,197-foot peak. A female hiker who heard the slide ran down the trail and called for help, Spezze said.
The slide wasn't preceded by smaller ones, Spezze said.
"It was totally unexpected. It caught everybody by surprise," he said.
The trail is one of the first hikes recommended to people new to the area and is also popular with tourists, said Margaret Dean, a regular hiker who has hiked the trail with her 7-year-old grandson.
Agnes Vaille, the waterfall's namesake, was a Denver mountaineer who died in 1925 while attempting a difficult winter climb of Longs Peak, elevation 14,259 feet. Because of the damage, the trail is unlikely to be reopened.

Copyright 2013 KCTV (Meredith Corp.), Associated Press and CNN. All rights reserved.
Avila nursing graduate killed in Colorado rock slide

More>>