KCK woman's mistaken identity leads to repeated arrests
Posted:
Updated:
By Chris Oberholtz, Digital Content Manager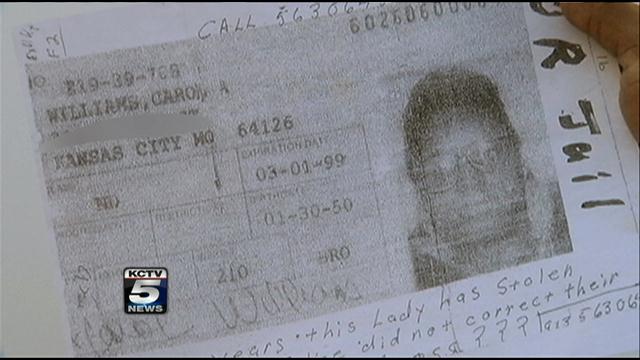 KANSAS CITY, KS (KCTV) -
A KCK woman has been forced to rebuild her life after getting arrested over and over for crimes she never committed.
The strange case of mistaken identity started in 1997 when Carol Ann Williams went to the Kansas City, KS, Police Department for a background check related to a job.
She was arrested and taken to the Johnson County Jail. That was when she found out that she had the same name, birth date and birth year of another woman who was accused of passing bad checks.
"It caused me a lot of heartaches, embarrassment," Williams said.

Williams has spent almost two decades working to clear her name of a criminal record she never had.
"People thought I was crazy when I was telling them about what was done to me, and no one really wanted to be bothered with me," she said.

Williams explained her situation to a public defender who helped clear her name. It took a handwriting analysis to dismiss the case.
Weeks later, she says police arrested her again for the same handwriting bad check case.
This time, she said her file included information from the other Carol Ann Williams, including the suspect's social security number. She was cleared after another handwriting analysis, and her case was again dismissed.
Williams believes it was done deliberately.
"Someone had to do it in the system and do that to me, because they knew I was not that lady," she said.

Then in 1999, Williams was arrested on the same charge and taken to Clay County, MO. The Johnson County prosecutor, who helped clear her initially, sent over his case file.
The case was once again dismissed.
Later, when Williams applied for a job, she learned she was on the national criminal database.
"I called back and the man told me, 'we cannot hire you,' and I said, 'why not, because of that identity stuff?' And he said, 'yeah.'"
Williams contacted Congressman Kevin Yoder's office about her case and ended up getting a new Social Security number, which is extremely rare.
"Often times, government agencies and bureaucracies are difficult to navigate and that is why we are here. I'm glad Ms. Williams' difficult case has been resolved," the congressman said in a written statement.
Williams said she is still in the national criminal database and is working on finding an attorney to help clear up that matter.
It is unclear if the other Carol Ann Williams was ever arrested or convicted in this case.
Two of the district attorney's offices KCTV5 contacted had a woman with the same name in their records, but it was for a completely different case.
Copyright 2013 KCTV (Meredith Corp.) All rights reserved.