Fraud victim: Business owner caught on camera got off easy
Posted:
Updated: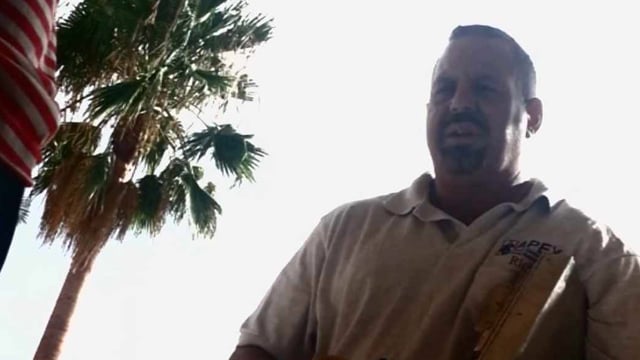 Richard Sparta was convicted of a misdemeanor for trying to convince a homeowner to commit fraud.(Source: CBS 5 News)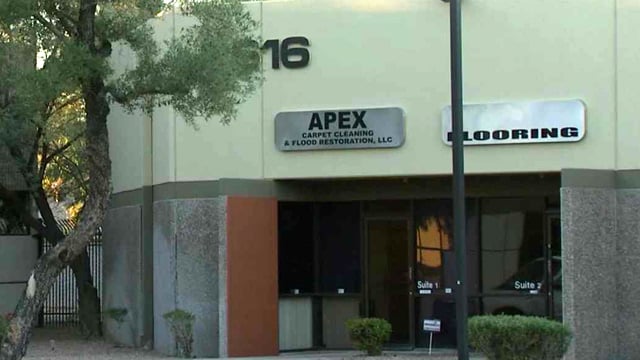 Sparta owns APEX Carpet Cleaning in Phoenix. (Source: CBS 5 News)
MESA, AZ (CBS5) -
A Valley business owner was caught on camera committing fraud, but his victim is claiming his punishment was too lenient.
CBS 5 News obtained video that shows Richard Sparta, owner of APEX Carpet Cleaning in Phoenix, coaching a homeowner on how to cheat her insurance company out of thousands of dollars.
Sparta was initially facing three felonies, but eventually cut a deal with prosecutors and pleaded guilty to a misdemeanor.
The fraud victim, who asked not to be identified, said Sparta got off easy.
"To me it's a slap on the hand," she said.
A few months ago, Sparta went to the woman's Mesa home to give an estimate on mold damage, then proceeded to try and persuade her into getting the most amount of money out of her home insurance company.
The woman's son recorded the exchange on his cell phone.
"He asked me if I had other things to include as more damage - to get more money out of it," the victim said.
Sparta can be heard in the video saying, "How much money do you need in your pocket? Tell me, whatever you want."
At one point, you can actually see Sparta walk in with a cheap rug and explain how to charge insurance companies for it.
"Thousand bucks right there," Sparta said. "Congratulations."
The woman turned the video over to authorities and Sparta was arrested.
"I'm guilty. I was wrong," Sparta told CBS 5 News. "I should have never done this. This was a one-time deal. I apologized to the judge."
But the fraud victim said the apology isn't enough.
With such clear and convincing evidence, prosecutors should not have agreed to such a light sentence, the woman said.
"You've got him on video telling exactly how he's going to defraud the insurance company and telling me I can make all that extra money," she said. "I seriously think they dropped the ball. The guy walked."
CBS 5 News contacted the Arizona Attorney General's Office to ask why prosecutors did not pursue the felony charges in this case.
AG press secretary Stephanie Grisham sent CBS5 this explanation:
"Upon completing their (DOI's) investigation, the AG's Office determined that the only charge we could prove at trial would be attempted insurance fraud, a class 1 misdemeanor, since no documents or statements were actually submitted to the insurance company.
"Mr. Sparta had no prior criminal history and is 51-years-old. There is some debate as to whether (homeowner) is the true victim of this case since her insurance company was the real victim (or would have been had this fraud gone forward).
Despite those issues, we personally spoke to her about the case and the plea. The only crime that is depicted on the video is attempted insurance fraud, which is a class 1 misdemeanor, which is what Sparta pled to."
"She was given the opportunity to address the court at sentencing but at the last minute left a message with our Office of Victim Services that she was "too upset" to come to the sentencing."
"We let the court know her position on the case and the court accepted the plea agreement to attempted insurance fraud, a class 1 misdemeanor, and sentenced Sparta to six months' probation, 8 hours of community restitution and $500 to DOI for investigative costs. (Homeowner's) insurance company was fine with the resolution of this case.Stay with cbs5az.com and CBS 5 News for developments in this story.
Copyright 2013
CBS 5
(KPHO Broadcasting Corporation). All rights reserved