Leawood woman accused of supplying booze to kids
Posted:
Updated:
By Amy Anderson, Anchor/Reporter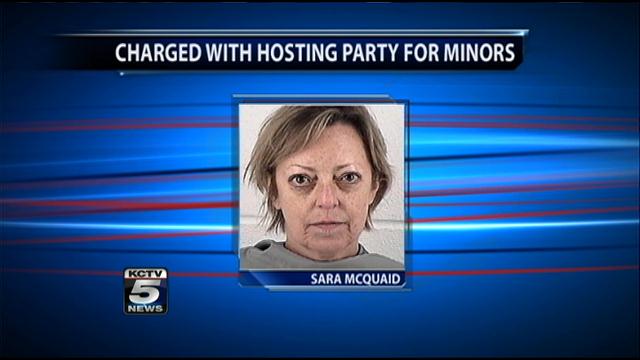 OLATHE, KS (KCTV) -
A Leawood woman is accused of supplying booze to underage kids during a party at her home.
Sara McQuaid, 56, faces one count of hosting a party with alcohol for juveniles. Bond was set at $1,500, which she posted.
Authorities said more than two dozen children were found at McQuaid's home, and that many were drunk.

McQuaid called the KCTV5 newsroom Monday night to complain about inaccuracies but didn't provide specifics. She repeatedly threatened to sue KCTV5 for defamation.
Neighbors who live near 98th Street and Overbrook Road said that the party that led to McQuaid's arrest wasn't the first time they had seen the quiet neighborhood streets lined with cars.
In the past, some parents have said they hosted parties because they don't want their children and their friends drinking elsewhere. They contend this allows them to keep an eye on underage drinkers.
But it's illegal, said Johnson County District Attorney Steve Howe. He said too many parents continue to host house parties for teens, and that police continue to bust the drinking parties.
"Kids are inexperienced drinkers and don't know how to handle alcohol," Howe said. "Many times, they get violently ill. The other problem is where you have a number of teenagers at a house, many times they get out of the house and end up driving."
And parents can be held liable when something horrible occurs.

An Independence teen was killed when an underage drunken driver struck her on Halloween night in 2009. The woman who allegedly served him with booze at a house party was issued a citation in 2011. It wasn't clear Monday night the status of that case.
Howe urged parents not to host the underage parties.
"It's unfortunately a common experience," he said.

Copyright 2013 KCTV (Meredith Corp.) All rights reserved.