'I'm Shmacked' movement depicting college life takes on life of its own
Posted:
Updated: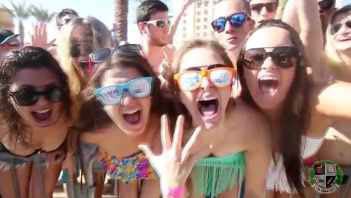 I'm shmacked is a media platform. (Source: CBS 5 News)
PHOENIX (CBS5) -
First, there was Girls Gone Wild; now, an online video series called I'm Shmacked is hitting computers everywhere.
A team of film students travel from university to university capturing what they claim is an accurate portrayal of college life on that campus. But their tour has caused near-riots on the East Coast, and they are no stranger to Arizona's schools.
I'm shmacked is a media platform that has exploded in the past year with more than 75,000 Twitter followers and more than 86,000 Facebook likes. Their videos depict college life at more than 40 college campuses, including ASU and the U of A.
"Have it be kind of like, instant gratification, what schools they can apply to, what schools their friends attend," said I'm Shmacked founder Arya Toufanian. He said they travel to schools, put on events, sell tickets, and make videos showing students drinking, using drugs and everything in between. And he remembers ASU fondly.
"It's a party school," Toufanian said.
But just a few blocks away from ASU is Casey Moore's Oyster House in Tempe, where they know how to spot someone having a little too much fun.
"Listen for their speech patterns, watch how they walk, how loud they voice gets," manager David Schleiffer said.
Their philosophy is all about having a good time, but knowing your limits.
"You don't have to be intoxicated to have a good time," Schleiffer said.
"Our point of view is a little bit different because we see the outcome on the back end," said Jelden Arcilla at Tempe St. Luke's Hospital. He said in the first week of school, 20 percent of the patients they treated had either drunk too much, or used drugs. And they saw 30 students in just two days.
"It looks appealing to kids and youth and those looking to experience college but it doesn't show the other side, the consequences," Arcilla said.

The founders of I'm Shmacked said you have to have balance and claim their videos accurately depict the balance students are seeking.
"That's realistic college life, it's being going that way for years," Toufanian said.

We asked ASU officials what they thought of the video series, but we have yet to hear back.
Copyright 2013
CBS 5
(KPHO Broadcasting Corporation). All rights reserved.