Police: Teen slaying suspect claimed victim was armed
Posted:
Updated:
Written by Matt Guillermo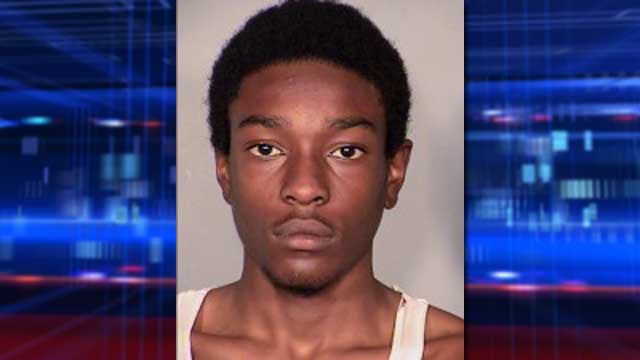 According to an arrest report, William Copeland, 19, claimed a slaying victim said she had a handgun when the suspect opened fire. (LVMPD)
LAS VEGAS (FOX5) -
A teen charged with the murder of a 71-year-old woman near downtown Las Vegas admitted to shooting the victim during a holdup, claiming she too had a weapon.
An arrest report was released Monday for William Copeland, 19, who was also charged with attempted robbery of a victim over 60 years old with a deadly weapon and conspiracy to commit robbery.
According to police, Copeland and a 16-year-old were arrested after officers patrolling the area were flagged down to a gunshot victim near H Street and Monroe Avenue on Saturday.
The victim, who was identified in the report as Dixie Jones, told officers, while wounded, she had been approached while walking by a person coming out of a silver car.
The person, as the victim stated in the report, brandished a firearm and demanded for Jones' purse. After being told no, the suspect, Jones said in the report, fired a shot at her stomach, causing her to collapse.
Citing the victim, police said the suspect fled on foot and then entered an awaiting vehicle.
Jones was rushed to University Medical Center, where she was pronounced dead.
Shortly after the gunshots, police, in the report, stopped a vehicle without its headlights on blocks away. Officers held the driver, who was identified as a 16-year-old in the report, and the passenger, Copeland, while a warranted search was made. Police eventually found a loaded handgun with bullets that matched the same casings found at the shooting, according to the arrest report.
In an interview with detectives, Copeland, in the report, said he and the 16-year-old were driving in the neighborhood and wanted to make quick money by holding up a person. While confronting the victim, Copeland, as stated in the report, was denied the purse he demanded and claimed the victim said she had a weapon.
He stated in the report he thought the woman was reaching for a weapon, prompting him to open fire once above the victim and a second time as he was backing away. The second shot struck Jones, the arrest report stated.
The driver involved in the shooting told police, in the report, Copeland returned to the vehicle after the shooting. The teen repeated, in an interview with police, Copeland's claim the woman was armed.
Copeland was booked into the Clark County Detention Center.
Copyright 2013 KVVU (KVVU Broadcasting Corporation). All rights reserved.