Documentary about life in small Missouri town stirs up controversy
Posted:
Updated:
By Chris Oberholtz, Digital Content Manager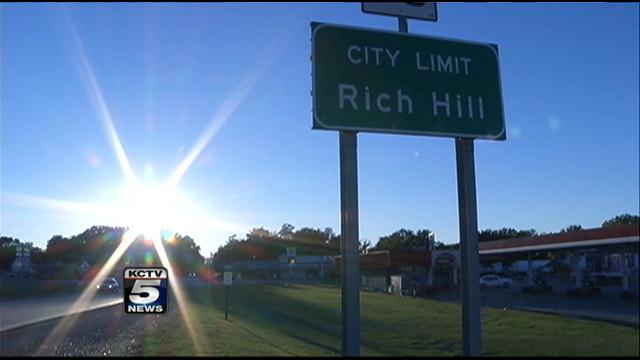 RICH HILL, MO (KCTV) -
A new documentary in the works, highlighting what it is like to grow up in small-town America, is stirring up some controversy.
It was shot in Rich Hill, about 90 minutes south of Kansas City.
It is a sign of how much the people in the small town care about their community. Some of them are worried the new documentary paints a negative picture of their town.
But the filmmakers say the residents there aren't the only ones who love, and believe in, Rich Hill.
"These are people I've known. I've known their families. Generations after generations have been raised in this area," resident Heidi Tourtillott said.

Rich Hill got its name back in the heyday of coal mining, when the streets and businesses were always busy.
The town doesn't look the same today, but residents say there is still opportunity, and more importantly, there is hope.
"I see the town slowly rising back up, trying to rebuild," resident Justin West said.

And people like West worry the new documentary film called Rich Hill could hurt those recovery efforts by painting the town as down and out.
"If we want to go try to get a new business to come here, and they see a film like that, that we have no connection and we're nothing but slums, they are not going to want to move here and set up business for us," Chad Heuser said.

The film tracks three area families – their bonds and their economic struggles. But it is not done yet. The criticism has come from a short trailer released and a controversial interview with one of the filmmakers.
"'Living in a third-world country' is how she put it," West said.

Tourtillott said the part that hit her the most was when the film spoke about the children.
"Basically saying they had a bleak future, and I don't think that is fair for the kids that are here," she said.

The filmmakers have roots in Rich Hill, too, and grew up visiting grandparents in the town.
"Rich Hill means a whole lot to me. My uncles still live there. My cousins live there. It is a community that I care very, very much about," Rich Hill filmmaker Tracy Droz Trago said.

Droz Trago said that one recent article misquoted her, took a spin she didn't expect, and does not reflect her respect for the town and what she wants her film to show.
"It's not that Rich Hill is isolated in any kind of way, but it is in the context of what's going on in the country and in our economy, and the challenges that many vulnerable families face in many small towns across the country," Droz Trago said. "There are a lot of people with a lot of bright futures in the community of Rich Hill, and that is for sure."
The filmmakers say their goal is to start a conversation and give a voice to people who are often overlooked, no matter where they live.
They don't believe people will find Rich Hill controversial when it's done, because they say it is really about hope, potential and what keeps people together.
The filmmakers have launched a campaign on the Kickstarter website to raise money to finish the film, and they hope to have it done by early next year.
This story tip came from the KCTV5 investigative tip hotline. If you have a tip, call 913-576-7555 or email at Investigate@KCTV5.com.
Copyright 2013 KCTV (Meredith Corp.) All rights reserved.