Explosion at Scottsdale home injures 1 person
Posted:
Updated: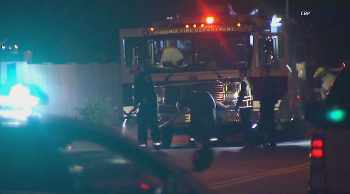 Police and hazmat crews respond for explosion in Scottsdale. (Source: CBS 5 News)
SCOTTSDALE, AZ (CBS5) -
Police and Haz-mat crews lined the corner of North 60th Street and Evans Drive on the Phoenix-Scottsdale border Saturday night. Police say there was a report of an explosion inside a nearby home.
The flashing lights and blocked roads brought neighbors like Colin Smith outside to investigate what happened in their neighborhood.
"There's a meth house somewhere around here and the cops were just waiting to bust down the door," Smith said.
At least, that was the rumor.
However, Scottsdale and Phoenix Police have not charged anyone with a crime. A 27-year-old man was taken to the hospital as a result of the explosion, which is now under investigation by local police and the Bureau of Alcohol, Tobacco and Firearms but family members say this was no "Breaking Bad" operation.
A woman living at that home wanted to set the record straight as to what really happened.
"[My son] was trying a new mixture because different chemicals can create different colors and different chemicals can create different sounds," she said.
Different sounds and colors for fireworks.
According to her, her son is an amateur chemist and likes experimenting with different chemicals as a hobby. This woman and her son will remain unidentified because no one has been charged with a crime.
"It exploded and made a loud noise," she described.
The 27-year-old Arizona State graduate suffered severe cuts to his arms and legs and was rushed to a Scottsdale hospital late Saturday night. His injuries were not life-threatening.
Although the explosion is officially "under investigation," family members claim no one broke a law and no one will be arrested.
Neighbors like Smith just ask for a little more caution the next time this amateur chemist goes to work.
"Glad he's not stuck to an Xbox or a video game, I appreciate his quest for knowledge, but maybe play it a little safer," Smith suggested.
For more on this story and other stories around Arizona from this author, follow Shawn Kline on Facebook and Twitter.

Copyright 2013 CBS 5 (KPHO Broadcasting Corporation). All rights reserved.