Valley dad turns to CBS5 to settle dispute with car dealer
Posted:
Updated: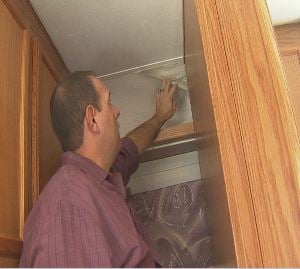 MESA, AZ (CBS5) -
A Valley father claims he was taken for a ride when he bought a used camper for his family from a Mesa auto dealer three months ago.
Ken Moskowitz told CBS5 that the dealership misled him into believing that prior roof damage had been repaired.
Moskowitz said he tried to resolve the dispute with VIP Auto Sales of Mesa, but was unsuccessful, so he turned to CBS5 for help.
The East Valley father of five had bought a used 2001 Jayco Kiwi camper for $6,000 from VIP Auto Sales in Mesa a few months ago.
Moskowitz claims the dealer told him they were resealing the camper's roof prior to purchase. He never expected water to come pouring through the camper during a recent rainstorm.
"We were mad, we were angry," said Moskowitz. "This is something we do with the family. The kids love camping. We feel we were lied to."
Moskowitz called his insurance company and took the camper to an RV repair shop.
That's when he learned of a much bigger problem.
Arizona RV Supercenter determined that the roof had previous water damage and was not repaired properly.
It also found that the roof was painted with latex paint to "cover the damage."
The insurance adjuster found the same thing and denied Moskowitz's claim, based on prior damage.
The trail or has dry rot and had been leaking water over a long period of time, according to the insurance report.
"To cover up damage with white latex paint and say it was good, you shouldn't be allowed to do that," said Moskowitz.
CBS5 went down to VIP Auto Sales office to get some answers from company president Ken Cook.
Cook said that the customer was aware of prior roof damage and that the roof was being resealed prior to purchase. Cook insisted that they coated the camper RV roof with sealant and did their best to repair the it.
"We did not try to hide anything," Cook said.
CBS5 asked Cook why Moskowitz wasn't offered a refund or why the camper wasn't repaired.
"I think its a misunderstanding," said Cook. "He understood when he bought it that it was damaged and we were fixing it."
Cook promised that he'd fix the camper or offer the Valley dad his money back.
VIP Auto Sales has been in business for more than 20 years and has received numerous positive reviews online.
Copyright 2013 CBS 5 (KPHO Broadcasting Corporation). All rights reserved