Study: AZ ranks 5th in women murdered by men
Posted:
Updated: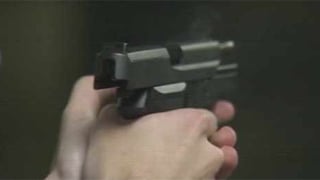 (Source: CBS 5 News)
PHOENIX (CBS5) -
Arizona ranked fifth in the nation in the rate of women murdered by men in 2011, the most recent year for which data is available.
The Violence Policy Center measured the rate of 1.84 per 100,000 in the Grand Canyon State.
The study covers homicides involving one female murder victim and one male offender, and uses data from the Federal Bureau of Investigation's unpublished Supplementary Homicide Report.
The annual report coincides with Domestic Violence Awareness Month in October.
"The sad reality is that women are nearly always murdered by someone they know," said VPC Legislative Director Kristen Rand.
Below is the complete list of the 10 states with the highest rates of females murdered by males in single victim/single offender incidents in 2011:
1. South Carolina - 2.54 per 100,000
2. Alaska - 2.01 per 100,000
3. Oklahoma - 1.99 per 100,000
4. Delaware - 1.92 per 100,000
5. Arizona - 1.84 per 100,000
6. Tennessee - 1.80 per 100,000
7. Idaho - 1.77 per 100,000
8. West Virginia - 1.70 per 100,000
9. Louisiana - 1.67 per 100,000
10. New Mexico - 1.62 per 100,000
Nationwide, 1,707 women were murdered by men in single victim/single offender incidents in 2011, at a rate of 1.17 per 100,000.
For homicides in which the victim to offender relationship could be identified, 94 percent of female victims were murdered by a male they knew.
Sixteen times as many women were murdered by a man they knew (1,509 victims) than were killed by male strangers (92 victims). Among victims who knew their offenders, 61 percent of female homicide victims were wives or intimate acquaintances of their killers.
In 87 percent of all incidents where the circumstances could be determined, the homicides were not related to the commission of any other felony, such as rape or robbery.
For homicides nationwide in which the weapon could be determined, more female homicides were committed with firearms (51 percent) than any other weapon.
Of the homicides committed with firearms, 73 percent were committed with handguns.
Copyright 2013 CBS 5 (KPHO Broadcasting Corporation). All rights reserved.