Chandler amputee inspires others through fitness
Posted:
Updated: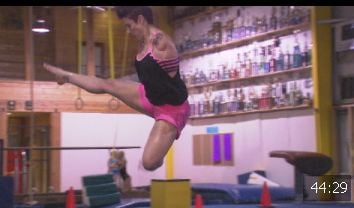 Barbie Thomas
CHANDLER, AZ (CBS5) -
Imagine your life without arms or hands, and most people would think about all the things they couldn't do.
But, can't is not a part of Barbie Thomas' vocabulary.
The 37-year-old Chandler woman's life is very much like anyone else's – except, where we would use our arms and hands, Thomas uses her legs and feet.
"I think the only limits that we really have are the ones we put on ourselves," said Thomas. "So if there's something I really want to do, I will figure out a way."
Thomas lost both of her arms in an electrical accident when she was 2 years old but that hasn't held her back.
"I learned to adapt and use my feet," she said.
Everything you do with your fingers, Thomas does with her toes.
"My make-up always surprises people, for some reason," she said.
Thomas also uses her legs and feet to drive, exercising incredible flexibility.
"I use my right foot on the steering wheel and my left foot on the gas and the brake pedals," she said.
Thomas really can do just about anything, an attitude and reality she grew up with.
"I played soccer," Thomas said rattling off the many sports she took part in as a child. "I did swim team. I took dance."
She said she's always been active. However, about 10 years ago, Thomas began participating in fitness competitions – inspired by the women she saw in fitness magazines.
"I love it because you actually have to show some athleticism, show some kind of talent," she said. "You have to get up there and perform."
In addition to strength training and cardio, Thomas practices gymnastics four days a week.
She's working on consistently nailing back and front tucks, which she eventually wants to incorporate into the fitness routines she performs onstage.
Thomas already has her splits, leaps and jumps perfected with a dancer's grace and agility.
"A lot of the reason I keep going is to prove to myself that I will get up on that stage and do those darn flips, and show everyone, show myself, that I can and will do it," said Thomas.
There's no doubt she will 'stick it' with her determination. Thomas has her two teenage sons to cheer her on.
"My motto has always been, 'can't is not an option,' and they know that," she said. "In fact, they have to remind me sometimes."
If you'd like to learn more about this Amazing Arizonan, visit Thomas' website.
Copyright 2013 CBS 5 (KPHO Broadcasting Corporation). All rights reserved.