Family wants justice for son's death in Circle K beer run
Posted:
Updated: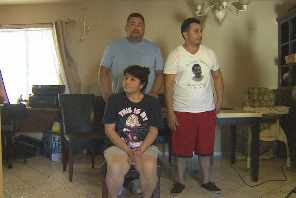 The Martinez Family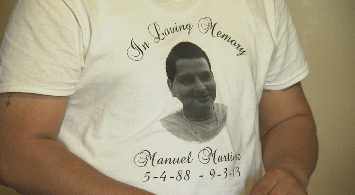 Shirts in memory of Manuel Martinez (Source: CBS 5 News)
PHOENIX (CBS5) -
Phoenix police are investigating a beer run that ended with a 25-year-old man dead.
Manuel Martinez died from injuries after security guards tackled him to the ground.
The suspect's family admits the young man was in the wrong for stealing but they claim excessive force was used.
"I just want justice to be served," said Manuel's brother, Ruben Martinez said.
On Aug. 31, Rudy Martinez drove his son to the Circle K on 83rd Avenue and Camelback Road because his son wanted a beer, but never did he think it would lead to his son's death.
"I was sitting in the truck waiting for him. My son had money," Rudy Martinez said.
Manuel Martinez reportedly grabbed an 18-pack of beer, walked out of the store without paying and wound up being tackled by two security guards.
"They came charging at him and I just see my son flying up in the air," Rudy Martinez said.
Manuel Martinez came down, hitting his head on the concrete and that's when Rudy Martinez says he got out of his truck and ran to him.
"I said, 'Lord, please don't take my son away from me,' and the security were just right there, they were giving high fives to each other," Rudy Martinez said.
Manuel Martinez died from his injuries three days later, and while Phoenix police are still investigating the matter, they said stores have the right to stop thieves.
"There are those individuals that rather than paying for beer, decide to go in and steal it. Unfortunately, it seems that this individual died from the results," said Phoenix police spokesman Sgt. Tommy Thompson.
Beer runs, in particular, are such a problem for Circle K that they recently teamed up with Silent Witness to launch a Facebook page featuring surveillance video in hopes of nabbing suspects.
Circle K's policy has always been not to use physical force or chase after beer runners.
In this case, the Martinez family says Manuel was wrong for stealing but he shouldn't have died over a case of beer.
"They could have grabbed him by the arm and said, 'Hey, come back here.' They didn't have to use full force," Rudy Martinez said.
Circle K released the following statement on last month's incident.
"Circle K Corporation has a deep commitment to and long-standing record of promoting public safety for all individuals in and around our stores.
"At this time, Circle K cannot comment on specific allegations as to events on the night of 8/31/13 at the Circle K store on 83rd Ave. and Camelback in Phoenix as they are currently the subject of a police investigation with which Circle K is cooperating fully.
"Pending its outcome, the company will treat this incident as an opportunity to review security procedures and partnerships internally and upon consultation with local law enforcement re-affirm their importance to store employees system-wide.
"We would like to take this occasion to express our condolences to family and friends of the deceased upon the loss of their loved one."
Copyright 2013 CBS 5 (KPHO Broadcasting Corporation). All rights reserved.