Textbook's 2nd Amendment phrasing upsets Greenville Co. dad
Posted:
Updated: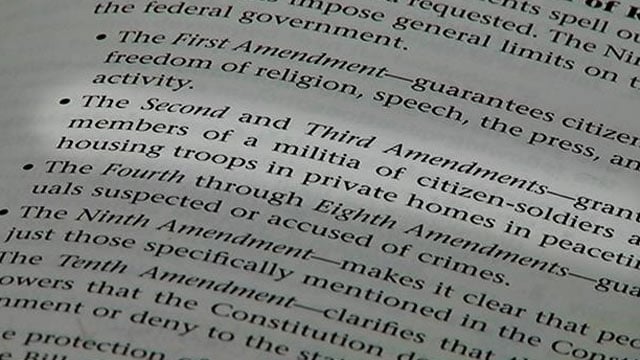 The phrase in question on pg. 149 of 'The Americans.' (Source: Paul Cape/FOX Carolina)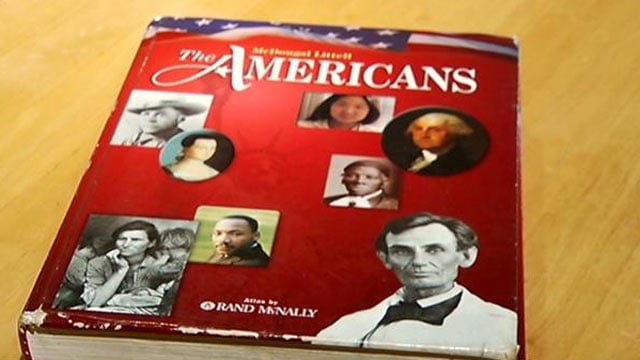 The textbook causing the Second Amendment controversy. (Sept. 19, 2013/FOX Carolina)
GREENVILLE, SC (FOX Carolina) -
Some are upset with how the Second Amendment is paraphrased in a South Carolina textbook that is used in some Greenville County high schools.

The textbook The Americans is a state-adopted textbook used in Greenville County and one local dad said it misrepresents the Second and Third Amendments by grouping them together in a part on page 149.
An Upstate father, Paul Cape, said the phrase in question reads, "The Second and Third Amendments - grant citizens the right to bear arms as members of the militia of citizen-soldiers and prevent the government from housing troops in private homes in peacetime."
Cape, of Fountain Inn, said his oldest daughter used the book back in 2005 and now his son is using it too. He said he thinks the phrase is trying to justify the right to keep and bear arms has a lot to do with being in a militia or the military only.
The Second Amendment reads in full, "A well-regulated militia, being necessary to the security of a free state, the right of the people to keep and bear arms, shall not be infringed."
And the Third Amendment reads, "No soldier shall, in time of peace be quartered in any house, without the consent of the owner, nor in time of war, but in a manner to be prescribed by law."
The textbook's phrasing has caught national attention after the website The Blaze picked up the story Wednesday. The site had previously posted a similar story on a school district in Texas, too.
"Everyone was up in arms; gun rights activists were trying to get the book removed from their school district," said Cape.
That's when Cape grabbed his son's book to look up the amendment and found page 149. On another page in the textbook, the Second Amendment is referenced correctly.
But Cape said regardless, it is not fair to students.
"If they don't get it right the first time, they're going to grow up - if nobody corrects them - thinking that's the way it is and that's not correct," Cape said.
FOX Carolina tried calling the publishing company behind the book, but they did not return our call.
Greenville County School spokesman Oby Lyles sent an email saying the South Carolina Department of Education was notified of the issue so they can take the appropriate action.
Lyles said they will inform Greenville County's high school social studies teachers that they should refer to the part of the textbook that accurately presents the Second Amendment.
Copyright 2013 FOX Carolina (Meredith Corporation). All rights reserved.