UPDATE
Deer Valley High School athletes banned from postseason
Posted:
Updated: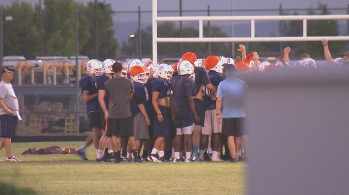 Deer Valley High School athletes (Source: CBS 5 News)
GLENDALE, AZ (CBS5) -
Athletes at Deer Valley High School in Glendale found out Tuesday postseason games for all sports are off the table this year.
A note on the school's website said the Arizona Interscholastic Association has put DVHS's entire athletic department on probation because the school allowed two ineligible varsity football players to participate in the season opener on Aug. 30.
"I think that the football team should be most affected by it, instead of all the other sports, because they're the ones who had two ineligible kids playing," said sophomore Kaylee Lake, who plays girls' basketball.
The two football players in question are reportedly transfer students who've since been cleared to play.
But because they hadn't been deemed eligible for that first game of the season, the AIA is now essentially punishing every athlete at DVHS.
"I just think it's really unfair for them to be doing this," Kaylee said.
Despite the ruling, DVHS football players continued to press forward on the practice field Tuesday night.
"We'll still go 100 percent on the field, no matter what," said junior David Lake, who plays junior varsity football.
Varsity team running back, senior Sy Munden, said, "I'm hoping for the best. I'm hoping we get to go to postseason, and every other sport along with it, but nothing can tear us apart."
Sy's father said the AIA's decision is a heartbreaking blow to the athletes who've done nothing wrong.
"I don't even know who's fully responsible for it," said Robb Munden. "They made a bad decision, whoever it was. We even lost the first game, if that was an issue. But they're still out there working hard. I mean, you watch practice tonight, they're still running as hard as they can - knowing that playoffs aren't an option. And that, to me, is winning."
The school said it will appeal the decision at the AIA's next meeting on Oct. 21.
The Deer Valley Unified School District is also investigating DVHS's decision to play those previously ineligible athletes.
The district issued a statement on Wednesday that said:
"The Deer Valley Unified School District will complete a full investigation regarding Deer Valley High School's athletic department, as a result of the Arizona Interscholastic Association's hearing on Sept. 16.
"The district will take appropriate action once the investigation is concluded. The focus remains on our students to ensure they do not suffer and are provided with full opportunities in athletics."
Copyright 2013 CBS 5 (KPHO Broadcasting Corporation). All rights reserved.