Dairy Queen employee goes above and beyond to help blind customer
Posted:
Updated: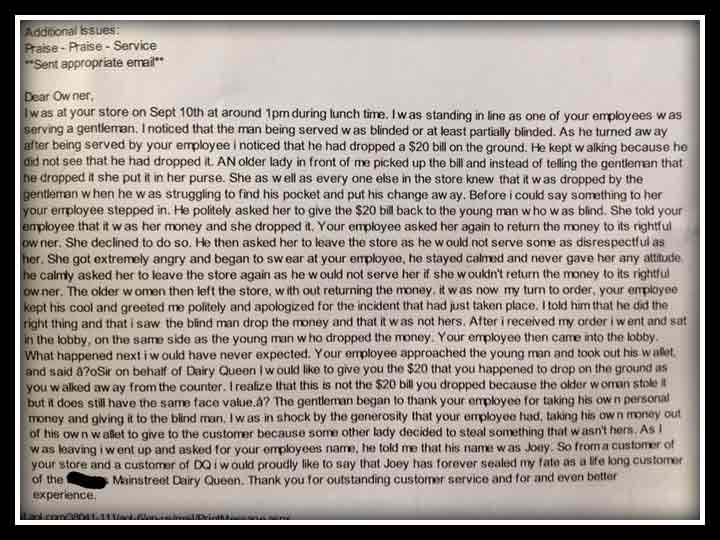 Photo Credit: Reddit
HOPKINS, MN (WFSB) -
An employee at a Minnesota Dairy Queen stood up for a blind customer in a touching way.

According to an article on the Huffington Post, a customer witnessed a woman steal money from the man who didn't realize he dropped it while he was walking out.
The employee, only identified as Joey from the Hopkins, MN store, stepped in and came to the aid of the man.
"He politely asked her to give the $20 bill back to the young man who was blind. She told your employee that it was her money and that she dropped it. Your employee asked her again to return the money to its rightful owner. She declined to do so," a letter to Dairy Queen read.

But that's not where the story ends.
"He then asked her to leave the store as he would not serve someone as disrespectful as her. She got extremely angry and began to swear at your employee. He stayed calm and never gave her attitude. He calmly asked her to leave the store again as he would not serve her if she wouldn't return the money to its rightful owner. The older woman then left the store without returning the money."
As if confronting the older woman wasn't enough, the person who wrote the letter to the Dairy Queen headquarters said the situation only got more emotional.
"After I received my order I went and sat in the lobby, on the same side as the young man who dropped the money. Your employee then came into the lobby. What happened next I would have never expected. Your employee approached the young man and took out his wallet, and said, 'Sir, on behalf of Dairy Queen, I would like to give you $20 you dropped because the older woman stole it, but it still has the same face value.'"
The customer who wrote the letter said they plan on being a Dairy Queen customer for life.
Check out the article on the Huffington Post by clicking here.

Copyright 2013 WFSB (Meredith Corporation). All rights reserved.