Ribbon cutting ceremony to be held at playground in memory of Jessica Rekos
Posted:
Updated:
By Joseph Wenzel IV, News Editor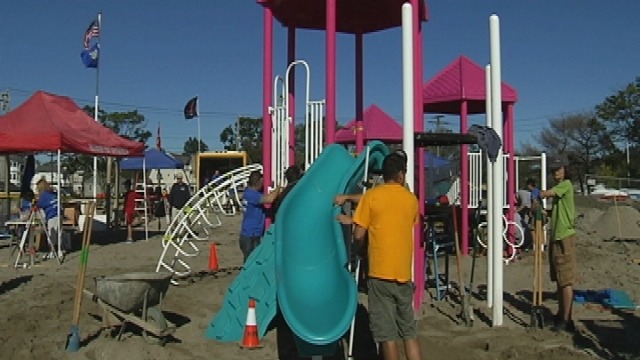 FAIRFIELD, CT (WFSB) -
Firefighters and volunteers spent Saturday building a playground in honor of one of the children killed in Sandy Hook school shooting.
Jessica Rekos was one of 20 first graders killed at the school on Dec. 14. Six adults were also shot and killed inside the building before the gunman killed himself. And on Saturday, her memory was honored with the construction of a new playground in Fairfield.

The New Jersey Firefighters Mutual Benevolent Association is building 26 playgrounds in the Tri-State Area, one for each of the victims.
The goal of the project is to "rebuild coastal communities damaged by Super Storm Sandy and simultaneously honor the victims of the Sandy Hook Elementary School tragedy."
"This blessed project has inspired many and continues to provide hope to families of Newtown while serving as a symbol of recovery and rebirth to storm ravaged communities," said Bill Lavin, president of the NJFMBA.
The playgrounds are being built as part of the Sandy Ground Project: Where Angels Play and will all be in areas devastated by Superstorm Sandy.
On Saturday, the ninth playground will be constructed in Fairfield in honor of Jessica.
Jessica's mom, Krista Rekos, graduated of Fairfield University and still has close ties to that community.
"When we were asked to be part of this project there was no question of our involvement," said IAFF Local President Bob Smith, "the Fairfield firefighters jumped in with both feet to make this noble cause and worthy project a reality."
Once completed, the playground will showcase Jessica's favorite colors and her love of horses as well as Orca whales.
Playgrounds have been already built in Westport, Ansonia and Stratford.
A ribbon cutting ceremony in Fairfield is planned for Saturday at 6 p.m.
Copyright 2013 WFSB (Meredith Corporation). All rights reserved.