CBS 5 Advocate
Make sure furniture is in stock before prepaying
Posted:
Updated: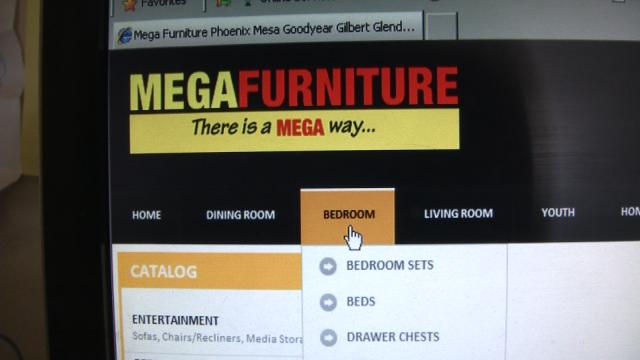 GILBERT, AZ (CBS5) -
If you're buying new furniture, and you're not walking out with the item, you better know if it's in-stock before you pay.
If you're ordering a custom-made item, delivery dates will vary widely. But for non-custom furniture, the kind you'd find in a showroom, the store should check to see if it's in-stock before you pay, but it's really up to you, to make sure they do.
"We're going to make a loft bed over the tub," Robin Seiler said.
Seiler says it's for her grandson who stays with her during his school year. She needed a twin mattress and found one for $100 at the Mega Furniture store in Mesa. She paid for it on a Friday, and says the salesman told her it was coming in from the warehouse.
"He said, 'It will be here tomorrow, you can come pick up from the store tomorrow' and I said, 'okay, what time do you open, I need this early so we can get our project started', and he said '10 o'clock'," Seiler said.
Seiler showed up the next morning, but the mattress wasn't there. It was on back order. She says the salesman had not properly checked if the item was in stock. She asked the store manager for a refund.
"He was pretty adamant that there were no refunds, and that was it. You paid for it, you're just going to have to wait until it comes," Seiler said.
And wait she has, 11 days later, the mattress still hasn't come in. The bill of sales does reference the "no refund" policy, but Seiler feels that shouldn't apply here since Mega Furniture didn't check if the mattress was in stock. She wants to buy it elsewhere.
"The invoice says it can take 3-8 weeks for back order. I don't want to wait that long, I want to get this done," Seiler said.
For now she waits, but she's learned a good lesson that all furniture buyers need to know. Stores should always check if an item is in stock, but it's up to you to make sure.
"Have him go to the computer and check to be sure that they do have the item in stock before I pay for it," Seiler said.
CBS 5 News reached out to Mega Furniture, and they resolved this problem less than an hour later. They gave Seiler an upgraded mattress at no additional cost, and it is in her house now. Our thanks to Mega Furniture for acknowledging their mistake and resolving this dispute, with lightning speed, in a satisfactory manner.
When it comes to prepaying for non-customer furniture, don't do it until you know the item is in stock. If it's not, you will now be more informed and can decide if you can wait, or you need to buy the item elsewhere.
Copyright 2013 CBS 5 (KPHO Broadcasting Corporation). All rights reserved.