ASU Football Set for test vs. No. 20 Wisconsin
Posted:
Updated: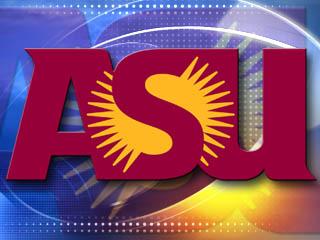 © cbs 5
PHOENIX (CBS5) -
The Sun Devils will take on the Badgers on Friday night on ESPN at 7:30 p.m. PT at Sun Devil Stadium in Tempe, Ariz.
The Arizona State University Sun Devil football program is currently in its 101st season of competition in 2013. The Sun Devils are 570-362-24 (.609) all-time and have appeared in 26 bowl games, compiling a 13-12-1 record in such contests. Arizona State kicked off the 2013 campaign with a rout over Sacramento State in a rare Thursday night tilt, knocking off the Hornets 55-0 at Sun Devil Stadium. The victory was the 58th for head coach Todd Graham and his ninth at the helm of the Sun Devil program. It was also the first shutout of his coaching career.
Arizona State returns home for a battle again nationally-ranked Wisconsin on Saturday, who enters the contest with a 2-0 record on the season without having given up a point this year. It will be the fourth matchup in the series history between the two teams, with the last taking place in Madison, Wis., in 2010 - a 20-19 victory for the Badgers. Saturday's contest will be broadcast on ESPN at 7:30 p.m. PT and will take place at Sun Devil Stadium in Tempe, Ariz.
#10THINGS (Twitter-Friendly Notes)
1. @FootballASU is 8-0 all-time versus the @BigTenConf when playing at Sun Devil Stadium, outscoring conference by 320-111 in that span.
2. @Taylor_Kelly10 is 76-of-102 for 1,005 yards and 13 touchdowns with 0 INT w/ 207.6 efficiency rating over the last four games.
3. @CoachGrahamASU earned the first ever shutout of his head career with the victory over #SacSt. First one in 58 victories.
4. @FootballASU has now won 11 consecutive opening games, tied for the 10th-longest active streak in the nation following #Iowa's loss.
5. @FootballASU is now 8-0 under @CoachGrahamASU when shutting out an opponent in the first quarter following #SacSt victory.
6. Six of @FootballASU's 7 touchdowns against #SacSt came in 2:23 or less. Only opening drive of 3:24 went longer.
7. Over the past four games, Marion Grice has scored 8 TDs (six rushing, two receiving), scoring once every 7.5 touches in that span.
8. @FootballASU's D gave up just 167 yards of total offense to #SacSt, best since 37 to #IdahoState in '09, 7th best result in last 18 seasons.
9. @FootballASU's one penalty for five yards matched lowest total of penalties and yardage for team since 2006.
10. @FootballASU is 9-1-1 all-time in the game following a shutout at #SunDevilStadium when the following game is also played in Tempe.
SEASON OPENERS Arizona State is now 72-27-2 (.723) all-time in season openers, including victories in the last 11 straight, all coming at home. ASU holds an all-time mark of 55-15-1 (.782) when opening the season at home and hasn't lost a home opener since 1998 to Washington and are winners of 13 straight. ASU's 11-game seasoning opening win streak is currently tied for the 10th-longest active streak in the nation.
ON THE AIR The MidFirst Bank Sun Devil-IMG Sports Network will carry all 12 of ASU's football games live on its 10-station radio network, including flagship station Sports 620 KTAR AM. Tim Healey (play-by-play) and former Sun Devil quarterback Jeff Van Raaphorst (color analyst) will call the action with Doug Franz reporting from the sidelines. This week's game will be broadcast on 92.3 KTAR FM. Weekly radio coverage begins two hours prior to kickoff with the "Talking Stick Resort Sun Devil Tailgate Show," hosted by Doug Franz. The game will also be broadcast on Sirius Channel 92 and XM Channel 192. The game will also be aired nationally by Sports USA Media. Visit their website at sportsmediausa.com for local listings.
LIGHTS, CAMERA, ACTION Saturday's contest will mark the first game for the Sun Devils this season that will be broadcast on the ESPN Family of Networks with the Sun Devils occupying the primetime on ESPN. Dave Pasch will provide the call with Brian Griese alongside as his analyst. Tom Luginbill will provide insight from the side lines.
ON THE BADGERS Arizona State is 2-1 all-time in the series against Wisconsin and 1-0. ASU dropped the last contest between the two teams, a 20-19 heartbreaker in Madison in 2010 that came down to a blocked extra point. Prior to that matchup, the last two meetings between the two squads took place in 1967 and 1968, both Sun Devil victories. Wisconsin enters the weekend not having given up a point through two weekends of college football following a 45-0 rout over UMass in the opener and a 48-0 blanking of Tennessee Tech this past weekend.
ASU vs. THE BIG TEN Arizona State is 16-14 all-time against current Big Ten teams. ASU is 13-4 when playing at home against those teams. The Sun Devils easily took care of Illinois last season at home in a 45-14 rout over the Fighting Illini. ASU has faced every team in the conference except Indiana. The Sun Devils have faced Big Ten opponents six times in bowl games, going 4-2. Seven of the 30 games that ASU has played against Big Ten teams were against Nebraska, which is in its third season in the conference.
ARIZONA STATE vs. THE BIG TEN SUPERLATIVES The Sun Devils added to a pretty good streak vs. Big Ten teams at Sun Devil Stadium against Illinois in 2012. Actually a streak that can't be any better. ASU is 8-0 vs. perennial Big Ten teams (ASU hasn't played Nebraska since they joined the Big Ten) in Tempe, including big wins in its previous two games prior to Illinois against Northwestern (52-21 on Sept. 17, 2005) and then No. 16 Iowa (44-7 on Sept. 18, 2004). This list doesn't include one of the biggest wins in school history against a current team in the Big Ten, as Nebraska didn't score a point on Sept. 21, 1996 when they were ranked No. 1. ASU has outscored its past three Big Ten opponents on Frank Kush Field 138-36, and in the eight games ASU has outscored its Big Ten opponents 320-111 (40 to 13.9 per game).
NOTABLE NUMBERS A couple numbers to keep an eye on come Saturday
--Marion Grice found the end zone 19 times last year, tying him for third on ASU's all-time single-season touchdown list with Woody Green (1972) behind just Wilford White (22/1950) and Terry Battle (20/1996). His 114 points on the year tied him for fifth on ASU's all-time single season scoring list behind White, Battle and placekickers Thomas Weber and Mike Barth. In his last four games dating back to last season, Grice has found the end zone eight times (six rushing, two receiving) and is averaging a TD ever 7.5 times he touches the ball.
--ASU finished 2012 tied for 10th in fewest penalties per game at 4.23 and eighth in fewest penalty yards per game at 34.92. The Sun Devils finished dead last (120th) in the FBS in 2011. In the team's opener, ASU had just one penalty for five yards, matching the lowest total for yards and penalties in the last eight seasons
--Dating back to the Washington State game last season, Taylor Kelly has thrown for 1,005 yards on 76-of-102 passing (.745). Over the course of his last four games, Kelly has thrown for 13 touchdowns with zero interceptions while posting a whopping passing efficiency rating of 207.6 over the span.
--Through the combined three games played by Wisconsin and Arizona State this season, neither team has allowed a single point - a streak that will have to come to an end at some point this weekend. ASU defeated Sacramento State 55-0 in its opener while the Badgers have victories of 45-0 and 48-0 over UMass and Tennessee Tech, respectively.
-Through those combined three games, both teams have given up just 195 rushing yards to their opponents - a 65 yard per game average that will be worth keeping an eye on come Saturday with both teams operating in run-heavy offenses.
-The Arizona State football team recorded its 27th shutout at Sun Devil Stadium with the 55-0 blanking over Sacramento State in the opener. ASU is 16-8-2 all-time in the games following a shutout at home and 9-1-1 all-time when the next game is also played at home.
RECAP - ASU v. SACRAMENTO STATE Taylor Kelly threw for 300 yards and matched a career high with five touchdown passes before sitting out most of the second half, helping Arizona State open its second season under coach Todd Graham with a 55-0 rout over Sacramento State on Thursday night. Marion Grice had a pair of touchdowns and finished with 117 total yards, and Arizona State had its first shutout since 2010 to avoid a letdown before its schedule gets a whole lot tougher. Despite being one of two FCS teams to beat an FBS opponent each of the previous two seasons, Sacramento State (0-2) never stood much of a chance against the bigger, faster Sun Devils. The Hornets, who lost 24-0 to San Jose State in their opener, had a good opening drive against Arizona State, but did little else after that, finishing with 167 total yards and three turnovers. Kelly was 19 of 24 for 262 yards and matched his career high for touchdown passes by halftime. He played one series of the third quarter before sitting out the rest of the half.
OTHER NOTES FROM SACRAMENTO STATE
-ASU now is a winner in 20-straight games against Big Sky opponents.
-The Sun Devils are now +4 in the takeaway column after recording two interceptions (Grandville Taylor, Anthony Jones) and recovered two fumbles (Taylor, Will Sutton), and committing no turnovers.
-On Robert Nelson's 33-yard field goal block on Sacramento State's first possession, he became the first Sun Devil to block a field goal since LeQuan Lewis against Cal on Oct. 23, 2010.
-Freshman place kicker Zane Gonzalez knocked through his first field goal as a Sun Devil, booting it 40 yards through the uprights 3:54 into the second half.
-After scoring 55 points in its opener, ASU now has averaged 51 points in its last four games dating back to last season.
-ASU outgained the Hornets by 356 yards, which was the sixth-largest discrepency in the past decade and the largest since outgaining Idaho State by 370 in 2009. The only larger yard discrepencies came against Iowa by 411 yards in 2004, San Jose State by 405 in 2011, Washington State also by 370 in 2006 and Northwestern by 357 in 2005.
-ASU gave up just six first downs, marking the lowest tally since holding Idaho State to four in 2009. and the second lowest tally of the last decade ASU also gave up six to Iowa in 2004 and seven to San Jose State in 2007 - the only two other single-digit first down allowances by an ASU defense since 2003
STRIKE FIRST ASU made a habit of scoring first last season, doing so 11 times in 13 games. The Sun Devils picked up when they left off this season in the opener against Sacramento State as they scored on their first drive and added touchdowns on the next four for good measure. ASU is now 8-4 under Todd Graham when scoring first.
STRIKE FAST ASU The quick-hitting offense was a staple of the team, with 58 of ASU's 75 offensive scoring drives last season coming in three minutes or less. There was much of the same this past Thursday night as ASU had seven of their nine scoring drives come in three minutes or less. The two that went longer spanned just 3:24 and 3:54. The other seven came in 2:23 or less with four of those coming in 1:45 or quicker.
START STRONG...FINISH STRONG Following a 14-0 box score after one quarter in ASU's season opener, the Sun Devils have now outscored their opposition 159-69 in the first quarter under Todd Graham. Perhaps the more telling statistic, however, is the fact the Sun Devils are now 8-0 under Graham when holding their opposition scoreless in the first. Despite only tallying a field goal in the fourth quarter of the contest, ASU still held the Hornets scoreless and have now outscored the opposition 129-62 in the fourth quarter of games under Graham.
GOLD RUSH ASU didn't quite reach its average from last season on the ground in the opener with just 158 rushing yards, but much of that had to do with the fact that Sacramento State stacked the box throughout the game and forced ASU to beat them through the air (which ASU did, throwing for 365 yards and five touchdowns). Nevertheless, ASU had two touchdowns on the ground and three explosive plays (rushes of 12 or more yards). ASU finished the 2012 season averaging 205.5 yards per game on the ground, which was the second-best mark in the past 25 seasons (since 1988). Only the 234.1 yards per game put up by the 1996 Sun Devils were better.
PUSH 'EM BACK ASU prided itself on its aggressive defense last season, forcing 117 tackles for a loss of 497 total yards - a 9.00 TFL per game mark that led the nation. As a whole, ASU had a combined 155 defensive plays that went for a loss or no gain out of 953 offensive plays the opposition ran and if you tack on incomplete passes to the mix, then ASU forced 341 plays that did not result in positive yardage (35.8 percent of opponent's plays from scrimmage). In the team's opener, ASU had just four tackles for a loss - a byproduct of Sacramento State's offensive scheme - but forced 11 incomplete passes and had four stops of no gain, coming to a total of 19 of Sacramento State 54 plays that did not cross the line of scrimmage (35.2 percent of the plays from scrimmage).
GRICE, GRICE BABY Marion Grice proved to be one of the top junior college additions in the country last year after leading the team with 19 touchdowns (11 rushing, eight receiving) on the season - tied for the third-highest single season total in school history behind just Wilford White (1950, 22) and Terry Battle (1996, 20) on the all-time list. His 114 points on the year tie for fifth on ASU's all-time single-season points scored list. Grice's knack for finding the end zone became commonplace, as he posted touchdowns on 19 of his 144 offensive touches last year (13.2 percent). His eight receiving touchdowns led the nation for receiving touchdowns by a running back and he finished tied for 14th in the country in total touchdowns. Grice picked up where he left off in the season open, scoring two touchdowns (one rushing, one receiving) and now has eight touchdowns (six rushing, two receiving) over the last four games - averaging a score every 7.5 touches in that span - equalling his conference leading tally from last season.
WINNING BY WAY OF TKO (TAYLOR KELLY OFFENSE) Sacramento State's defensive scheme in the opener challenged Taylor Kelly to beat them through the air and, that, he did. Kelly had 300 passing yards on 23-of-31 passing and got that done despite playing just the first half and a series in the second. he tied his career high of five touchdown passes in just the first half. Kelly's streak of 102 passes without an interception now ranks fourth nationally behind UCF's Blake Bortles (193), Kentucky's Jalen Whitlow (155) and Oregon's Marcus Mariota (117). The school record holder in completion percentage and efficiency, Kelly is riding a hot streak dating back to last season having thrown for 1,005 yards on 76-of-102 passing (.745). Over the course of his last four games, Kelly has thrown for 13 touchdowns with zero interceptions with a whopping passing efficiency rating of 207.6 in the process. According to ESPN's Total QBR, Kelly currently ranks seventh nationally with a rating of 96.9. Baylor's Bryce Petty leads the nation with a Raw QBR of 98.3. Kelly's rating is third in the conference behind Marcus Mariota (97.3) and UCLA's Brett Hundley (96.9).
DUAL-THREAT QB Taylor Kelly's ability to extend plays was exceptional last season, as demonstrated by his 516 net rushing yards on 134 attempts on the year - a mark skewed by the fact that sacks count against his rushing total. If you take out sacks, Kelly would have led the team in yardage and yards per carry with 690 net rushing yards last season on 103 carries (6.7 ypc). His single sack aside, Kelly had five rushes for 31 yards in the opener - a 6.2 yard average that would have ranked second on the team.
TWO IS BETTER THAN ONE Marion Grice and D.J. Foster are two of just five FBS players that return this season that had both 400 yards on the ground AND through the air last year. and played a large part in a running-back-by-committee approach last season that accounted for a large chunk of ASU's total yardage on the season. Grice again led the team in all-purpose yardage in the opener with 124 yards on 18 touches in just over a half of action and the tandem combined for 158 of ASU's total 523 yards of offense (30.2 percent).
FOSTER THE PEOPLE D.J. Foster came to ASU last season as what many considered the "gem" of the Sun Devil recruiting class and he lived up to the hype. Foster was second on the team in all-purpose yardage with 1,026 yards this year (493 on the ground and 533 by air). His ability to make what the ASU coaching staff calls "explosive plays" (rushes of 12 or more yards, receptions of 16 or more yards) helped him stand out amongst an offense full of talented players as he led the team in such plays with 31 total (18 receiving and 13 rushing). Foster had a quiet night in the opener, as he had just one rush for five yards and four catches for 29 yards. He only played for a half, however, and ASU's improved number of weapons on offense likely played a role in things.
#DYNAMICDUODEUX Grice and Foster return 2,130 combined yards from last season (1,172 rushing, 958 receiving) and 25 touchdowns. Among Pac-12 programs returning dual backs where one back didn't take over 75 percent of the touches between the two, only the Oregon squads return numbers that come close to stacking up. Oregon State returns Storm Woods and Terron Ward, who combined for 1,747 yards (1,355 rushing, 392 receiving) and 19 touchdowns. Oregon, which lost Kenjon Barner to graduation, returns a tandem of De'Anthony Thomas and Byron Marshall, who put up a combined 1,607 yards (1,148 rushing, 459 receiving) and 20 touchdowns.
SECONDARY A PRIMARY ASU's secondary was among its driving forces last season. The unit finished the season ranked third nationally in passing defense (167.92) and 10th in passing efficiency defense (105.45), leading the Pac-12 in both. In addition, the squad's 21 interceptions last year (giving some love to the linebackers, who had six of those and returned two for touchdowns) were tied for fourth in the nation. The linebackers were right back at it on Thursday with Grandville Taylor nabbing the first of his career and Anthony Jones intercepting his second while the secondary did their part, holding Sacramento State quarterbacks to a combined 12-of-23 passing for 116 yards and a paltry 77.15 quarterback efficiency rating.
BETTER SUITED FOR HANDKERCHIEFS The Sun Devils didn't give the referees much reason to reach for their pockets last season and things are off to a similar start this year. ASU was penalized just once for five yards against Sacramento State, tying the lowest single-game total in the past eight season. Eight of Arizona State's least penalized games since 2006 have now come in the Todd Graham era following the effort.
LIGHT 'EM UP ASU had no problem putting points on the scoreboard last season and that resumed on Thursday as ASU dropped 55 on the Hornets. ASU is now averaging 51 points per game over the last four games dating back to last season. ASU's 118 combined points in the last two season openers (ASU defeated NAU 63-6 last season) are the highest in consecutive openers in program history. ASU finished 2012 with 499 points and the 38.4 points per game ranked ASU 14th nationally in scoring offense. That mark ranks fifth all-time in ASU history in the statistical category and was the most since the 1973 squad that scored 43.2 ppg.
MAKE 'EM PAY ASU put points on the board following all four of Sacramento State's turnovers in the opener, continuing a trend that starts last year when the Sun Devil offense put points in the bank on 70.0 of its conversion opportunities and scored 18 touchdowns off of 30 turnovers forced. ASU had three touchdowns and a field goal off turnovers on Thursday. ASU outscored opponents 139-58 in points off turnovers over the course of last season, despite posting just a middling +6 number in the takeway category. Much of that came by way of the defense, which did an admirable job of limiting opponents following turnovers by the offense. On the season, ASU's opponents scored on just 41.7 percent of their drives following an ASU turnover and scored just seven touchdowns in that span on 24 turnovers. ASU didn't turn the ball over in the opener, giving them a +4 turnover advantage already this season to go with a +24 mark in the points off turnovers category.
THE ALTERNATIVE DEFINITION OF "SCORING DEFENSE" Scoring defense is an official statistic credited to defenses based on how many points they allow per game. The ASU defense worked to re-write that definition with a defense that finds a way to directly lead to point on the board. While there were no defensive scores in the opener, ASU scored 24 of its 55 points off Sacramento State turnovers caused by the defense. Last year, ASU had three interceptions returned for touchdowns on the year (Alden Darby - 70 yards at USC, Anthony Jones - 36 yards vs Oregon and Brandon Magee - 45 yards vs NAU) and one fumble recovery for a touchdown (Junior Onyeali vs Oregon State). The defense also had a blocked punt for a safety, giving the squad a total of 26 direct points. If you add in the points off turnovers that the ASU offense scored, the ASU defense had a hand in 165 of the 499 points (33.1 percent) scored for ASU last season.
WINNING THE BATTLE FOR FIELD POSITION The Sun Devils were largely exceptional when it came to starting field position last season, and picked that up again in the opener. The Sun Devils average starting field position, aided largely in part by four Sacramento State turnovers, was their own 43-yard line while holding the Hornets starting field position to an average of their own 25-yard line. ASU's average starting field line was the Last season, ASU posted an average starting spot of their own 33-yard line that ranked 10 in the nation. The Sun Devils also held their opponents to an average starting line of their own 28-yard-line, a total that ranked 24th nationally.
MORE ON PENALTIES Todd Graham has had a knack for having some of the most disciplined teams in the nation when it comes to penalty yards. In each of his seven seasons as a head coach, Graham's teams have been consistently ranked among in the top half of the least penalized teams in the country in both yards and penalties per game. In 2012, the Sun Devils finished 10th in fewest penalties (4.23) and eighth in fewest penality yards per game (34.9).
A GRAND OPENING ASU's defensive effort in the opener was about as collaborative an effort as any with no player posting more than four tackles while 19 different players logged a tackle. But former walk-on turned scholarship player Grandville Taylor sure picked up where he left off last season, logging four tackles, picking up a fumble recovery and also nabbing his first interception of his career and taking it 67 yards to the two-yard line before being tackled. If a case were to be made for a defensive MVP of the game, Taylor likely wouldn't get a serious look. Taylor finished up the 2012 campaign with a career-high eight tackles in the Kraft Fight Hunger Bowl and figures to play a big role on the ASU defense this season.
A STRONG START All told, 15 Sun Devils made their debut against Sacramento State and it was sophomore receiver Jaelen Strong that had one of the more memorable nights. The junior college transfer led the team in receptions and yards with six grabs for 58 yards while snatching his first career touchdown in the process. The feat was made more impressive by the fact that there are few receivers in recent memory who were as productive in their first career appearance, feats the Derek Hagan, Shaun McDonald, Rudy Carpenter, Chris McGaha, Kyle Williams, Gerrell Robinso
SEVERAL STRONG STARTS In a different category of starts, seniors Evan Finkenberg and Osahon Irabor will begin 2013 as two of the most seasons starters in the Pac-12. Only Oregon State's Michael Philipp (37) and Utah's Brian Blechen (35) have more starts than Finkenberg and Irabor, who each have 34. Irabor's statistic is particularily notable as he has started all 34 of his games consecutively - a mark that paces the Pac-12 Conference ahead of Washington State's John Fullington, who has 32.
A SUTTON IMPACT ASU's consensus All-American, senior Will Sutton had a relatively quiet day against Sacramento State, playing over the ball more than expected in what looked to be part of Todd Graham's renewed emphasis on run defense this season. Even so, Sutton had two tackles and half a tackle for loss in just over a half of play while also recovering a fumble. While quarterback hurries aren't an officially kept stat, a look through the game tape would show Sutton having his nose in more than a couple plays despite the lack of eye-popping numbers. Sutton posted 23.5 tackles for loss last season (fourth-most in ASU history) and 13.0 sacks (fourth in ASU history).
DON'T FORGET BRADFORD With the incredible season posted by Will Sutton last year, it was almost easy to forget the phenomenal year put forth by Carl Bradford. Playing out of the Devilbacker position, Bradford finished the year with 81 tackles (fourth on team), 20.5 tackles for loss (second on team and 10th-most in school history) and 11.5 sacks. His three forced fumbles tied Sutton for most on the team and his two fumble recoveries tied Deveron Carr for the team lead as well. He also added an interception for good measure. Since sacks started being recording in 1978, only four sophomores in Sun Devil history have amassed 10 or more sacks and Bradford's 11.5 were more than all of them - a list that includes Shante Carver (11/1991), Dexter Davis (10.5/2007) and Terrell Suggs (10/2001). Bradford was one of just five FBS players last season to total 80+ tackles, 20+ TFLs AND 10+ sacks on the year. Bradford had a quiet night in the opener but will be worth keeping an eye on this season.
A #DYNAMICDUO Between Bradford and Sutton, the Sun Devils as formidable a defense duo as any in the nation. Only 10 returning FBS players posted 10+ sacks in 2012. Sutton and Bradford are the only teammates on that list. There were a total of 51 FBS teams that had fewer sacks in 2012 than Sutton and Bradford had combined (24.5). Not since 1978 has ASU had a pair of players post 20+ TFLs and 10+ sacks in the same season (Al Harris 22 TFL/19 sacks and Bob Kohrs 20 TFL/14 sacks). As a team, Boston College only had one more TFL in 2012 than Sutton and Bradford had combined (44.0 TFL for Sutton and Bradford). Only 10 returning FBS players posted 10+ sacks in 2012. Sutton and Bradford are the only teammates on that list. 51 FBS teams had fewer sacks in 2012 than Sutton and Bradford had combined (24.5).
AN IMPRESSIVE YEAR The 2012 team's 117 tackles for loss were right in the mix of some of the great ASU defenses of the last 15 years. In that span, Terrell Suggs and Co. had 123 in 2002 and last year's Sun Devil team came just shy of that school record. The team did finish in a tie with Adam Archuleta, Pat Tillman, Jeremy Staat and friends, who posted 117 tackles for loss in 1998 while also adding 111 in 1996 and 1997 and 102 in 1999. Those marks rank as the highest in school history. Five players on last year's team posted double-digit TFL numbers. Only the 2000 squad (97 total TFL) had five players in double digits in school history.
SACK LUNCH: While those years of Archuleta and Friends had some impressive TFL numbers, they pale in comparison to the sack count ASU put up last season. The Sun Devils had 52 sacks in 2012, a mark that trailed only the 1978 Sun Devils (64) and tied with the 2002 ASU team that also had 52. At 4.00 sacks per game, the Sun Devils finished just behind Stanford (4.07) for second in the nation in the category last year. ASU had two Sun Devils with over 10 sacks last year (Carl Bradford and Will Sutton) - a feat that had not been achieved since the 1994 season.
NOT PLAYING COY Chris Coyle put up one of the best seasons in tight end history at ASU in 2012. Coyle finished third in the nation in tight end receptions per game with 4.38. His 57 receptions led the Sun Devils and were a new single-season best all-time for ASU tight ends, as did his 696 receiving yards on the year. Coyle finished with five touchdown catches on the year, one shy of the single-season tight end record set by Miller and Joe Petty. Coyle picked up admirably in the opener, catching two passes for 48 yards and a touchdown.
NOT IN IRABOR'S HOUSE Defensive back Osahon Irabor was a force last year with 14 passes defensed on the season to lead the team. What's more impressive is that he didn't have a single pass interference called against him all season after having seven called against him in 2011 . The 14 pass breakups in 2012 were the most by a Sun Devil since Justin Tryon had 16 in 2007. Irabor also posted his first interception of the season against Arizona.
INFO-GRAHAM Over his four seasons prior to coming to ASU -- one at Pittsburgh and three at Tulsa -- Todd Graham's teams rushed the ball on at least 53.4 percent of their total plays. In 2008, Tulsa rushed on 61.4 percent of its total plays. The 2012 Sun Devils rushed the ball on 59.1 percent of their total plays. In 2011, ASU rushed 44.5 percent of the time. Over the past seven seasons at Pitt, Tulsa, Rice and now ASU, only one Graham-coached team has ranked outside the top 50 nationally in sacks. In 2011, Pittsburgh averaged 3.31 sacks, which ranked third nationally. The Sun Devils averaged 4.0 sacks per game last year, the second-best mark in the nation. In seven seasons, Graham is 22-20 in true road games. ASU was 3-3 in such games in 2012. In the previous four seasons, ASU was 5-16. In six of the past seven years, Graham's teams have ranked 39th or better nationally in fewest penalty yards per game. In 2008, Tulsa averaged just 37 penalty yards, which ranked 11th in the nation. In 2011, Pitt averaged 39.5, which ranked 18th. The Sun Devils averaged only 34.92 penalty yards per game in 2012 which was good for eighth in the nation.
ROAD WARRIORS Todd Graham has had a lot of success on the road during his head coaching days, and his first season with the Sun Devils was no different. ASU compiled a 3-2 road record in Pac-12 Conference games with victories against Colorado, Cal and Arizona - one of just four Pac-12 teams to do so behind Oregon, Stanford and UCLA. It was just the fifth time since joining the Pac-12 (1978) that the Sun Devils had won three conference games on the road.
SCHOLAR-BALLERS The Sun Devil football team has not only showed impressive strides on the field of play, but also in the classroom. The Sun Devils had 51 student-athletes named "Scholar-Ballers" this past season, meaning they earned a 3.0 or higher GPA for the year. That is 21 more student-athletes than the 2010-11 campaign and 13 more than 2011-12.
Copyright 2013 CBS 5 (Meredith Corporation). All rights reserved.