Police: Man robs Vegas bank, calls 911 on himself
Posted:
Updated:
Written by Matt Guillermo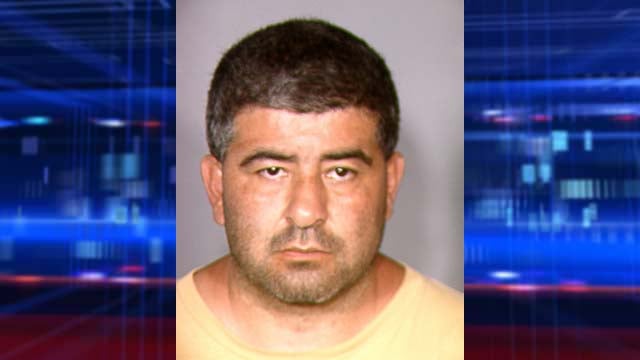 Matthew Ramero (LVMPD)
LAS VEGAS (FOX5) -
A man depressed over his divorce claimed his medication was not working when he admitted to robbing a Las Vegas bank, according to an arrest report.
According to Las Vegas Metro police, Matthew Ramero, 42, of Santa Fe, NM, was arrested on Aug. 30 after a teller as well as the suspect called 911 to report a robbery at the U.S. Bank in the 2300 block of W. Sahara Avenue.
In an arrest report, Ramero stated to police he arrived just two days before the hold-up from New Mexico, depressed over his dissolved marriage and unemployment. He said, in the report, he was staying at a Strip hotel before committing the robbery.

Ramero told police, in the report, he wrote a robbery demand note during his check out, took a cab, spotted a bank during the car ride and proceeded to the location.
Citing the suspect as well as a teller inside the bank, police wrote, in the report, Ramero entered the bank, handed a note to a male teller stating he had a knife and demanded money. The teller complied, handing over more than $1,100 in cash, police said in the report. The teller, in the report, also activated a silent alarm in the process.
After the money was given, Ramero, as he stated in the report, told the teller to contact 911 about the robbery.
In the report, Ramero told police he exited the bank and felt guilty for the hold-up. That prompted him to also contact dispatchers and admit to the robbery.
He flagged down an arriving officer, told him he was off his medication and robbed the bank and was detained, the report described.
Police said, in the report, a knife as well as a folded wad of cash was found with Ramero and in a sweatshirt in his possession.
Ramero was booked into Clark County Detention Center with counts of robbery with a deadly weapon and burglary while possessing a deadly weapon.
Copyright 2013 KVVU (KVVU Broadcasting Corporation). All rights reserved.