McCain faces Syria opposition at Arizona town hall
Posted:
Updated: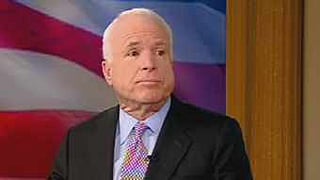 PHOENIX (AP) -
U.S. Sen. John McCain faced a tough crowd largely opposed to military action in Syria during a town hall meeting in Phoenix.
The Republican senator repeatedly told about 150 constituents at the Thursday morning meeting that there would be no plans to send U.S. troops.
Syria dominated the conversation at the gathering at a public library. The senator was interrupted from the start by someone shouting that his response wasn't good enough. A few others held signs protesting any action in Syria.
The town hall meeting was one of two planned for Thursday, with the other taking place in Tucson.
The gatherings come as President Barack Obama is requesting speedy congressional backing of a military strike in Syria to retaliate for an alleged chemical weapons attack on Aug. 21.
Copyright 2013 Associated Press. All rights reserved.