Horse Mesa Dam repair crew living, working underwater
Posted:
Updated: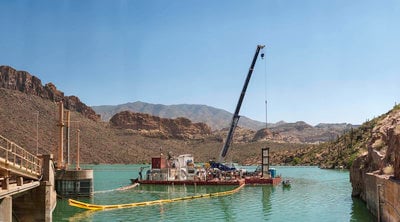 (Source: CBS 5 News)
APACHE JUNCTION, AZ (CBS5) -
Crews doing work for the Salt River Project utility company are in the closing stages of a two-month dam repair project that has taken place mostly underwater.
Seattle-based Global Diving & Salvage Inc. was contracted by SRP for a project on the Horse Mesa dam, located on the western end of Apache Lake.
Two crews of two men each alternate 20-hour work shifts 170 feet below the surface of the water. One man works a five-hour shift in scuba gear while the other rests in a submersible called a dive bell.
The crews breathe a mixture of oxygen and helium, allowing them to live and work efficiently in the underwater pressure.
"When they had to decide what to do to repair this damage, they had to either drain the lake, 170 feet down, which would basically empty the lake," says SRP spokesman Jeff Lane.
"For us, it's definitely unique to have an operation like this. We've had divers come in and do work but not of this magnitude."
The divers are fixing a portion of the dam's hydro-electric power plant. A system that pumps water to the top of the reservoir so it can be re-used to generate hydro-electric power broke down last summer.
Simply put, crews are welding a massive steel panel in place of the broken component that will bring the unit back online.
The work on the broken unit was finished several days ago, and now crews are spending several remaining days doing preventative work.
The Horse Mesa Dam is a workhorse for SRP. It produces more hydro-electric power than SRP's other three Salt River dams combined.
Copyright 2013 CBS 5 (KPHO Broadcasting Corporation). All rights reserved.