UPDATE
Phoenix raids cap lengthy undercover investigation
Posted:
Updated: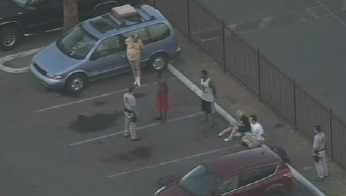 (Source: CBS 5 News)
PHOENIX (CBS5/AP) -
Local and federal officials conducted multiple pre-dawn raids in northwest Phoenix on Wednesday morning, capping a lengthy gang-related undercover investigation.
Phoenix Police Department spokesman Sgt. Steve Martos said Phoenix police conducted a joint operation with the FBI, the Bureau of Alcohol, Tobacco, Firearms and Explosives (ATF), the Department of Public Safety (DPS) and the Maricopa County Attorney's Office on criminal activity at an apartment complex located at 2500 W. Ocotillo Rd., off North Black Canyon Highway near the Glendale Avenue exit.
Spokesmen for the state DPS and federal ATF say officers and agents executed nine warrants related to illegal drugs and firearms sales.
Authorities made nine arrests out of the 29 people they were looking for as part of a nearly year-long investigation.
The nine suspects who were sought and arrested are:
Lawrence Whitney, 46
Angel Corralles, 30
Marvin Peck, 56
Bernard Russell, 40
Lionel Benjamin, 20
Augustine Blevins, 45
Donte Blevins, 26
Kevin Jones, 26
Rodgerick Johnson, 29
At a news conference Wednesday morning, police said the gang took over the entire Winding Creek Apartments and neighborhood, in "one of the largest crime hotspots in the city."
This criminal street gang used intimidation and threats to the surrounding neighborhood in order to continue their criminal behavior without interference, said Phoenix police Sgt. Steve Martos.
The remaining suspects were booked on outstanding warrants and drug possession charges. They are identified as:
Antowana Johnson, 31
Devon McCarty, 30
Kendrick Thompson, 27
Rhiannon Marion, 37
Earnest Howard, 51
Tina Love, 42
Marvin Washington, 53
Jan Zalinski, 44
Police interviewed the owner of Winding Creek Apartments and said they plan to hold management accountable for the escalating gang crimes at the complex. He was not booked but the investigation is ongoing.
Detectives seized cocaine, methamphetamine, marijuana, Oxycodone, weapons, cash and three vehicles, Martos said.
Stay with cbs5az.com for updates on this developing story.
Copyright 2013 CBS 5 (KPHO Broadcasting Corporation). All rights reserved. The Associated Press contributed to this report.
UPDATE

Phoenix raids cap lengthy undercover investigation

More>>

SLIDESHOW: Butler's home


More >