Recent heavy rain may bring more mosquitoes
Posted:
Updated: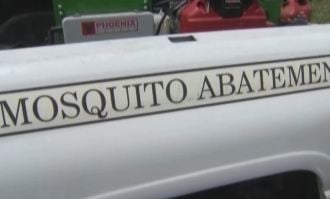 PHOENIX (CBS5) -
With recent heavy rain in parts of the Valley, Maricopa County Environmental Services is on high alert for an increase in mosquitoes.
"We just had some significant rain recently. So, we're estimating that in a couple weeks we'll be seeing a significant increase in the number of complaints," said Johnny Dilone with Maricopa County Environmental Services.
So far this year, the county has had a little over 3,000 mosquito complaints, compared to over 4,000 this time last year.
In previous years, the east Valley has had most of the mosquito activity. But this year, the west Valley seems to be most active for the critters due to higher rain totals.
The best thing you can do to control mosquitoes near your home is to eliminate standing water.
And if you do notice more mosquitoes in your area, Environmental Services wants to hear from you.
"Even if they don't know the source, let's say they just notice more mosquitoes in their area, and they've gotten more within the past couple weeks, they should call the county and make us aware of that," added Dilone.
At a minimum, the county will come out and set traps in order to find out if mosquitoes in your area are carrying the West Nile virus.
So far this year, there have been 16 confirmed cases and two confirmed deaths blamed on the West Nile virus in Maricopa County.
To report a mosquito problem or to learn more about West Nile virus, CLICK HERE.
Copyright 2013 CBS 5 (KPHO Broadcasting Corporation). All rights reserved.