CBS 5 Advocate
Watch "automatic renewal" clauses on gym memberships
Posted:
Updated: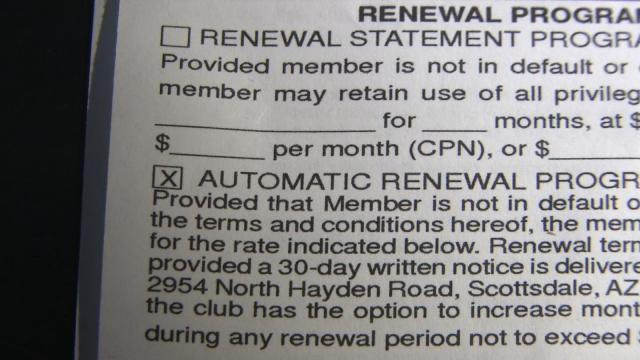 SCOTTSDALE, AZ (CBS5) -
If you sign a longer-term agreement with a gym or health club it's important to discuss "automatic renewal" and how it might impact you.
Many gym contracts come with "automatic renewal" clauses. This means at the end of the term you will be renewed for another identical term unless you tell the gym otherwise. The problem is that the auto renew option is usually just a box on the contract to click and can be easily overlooked.
"I've always been really active and I wanted to try something different," Katrina Natori said.
Natori, who is a personal Pilates Instructor, chose boxing. She signed up with a gym called Fight Ready. It was a six month contract at $100 per month.
"At the end of the six months, the contract would be terminated because that's what she had told me. It was a six month contract and it would just end there," Natori said.
Natori says she did stop going to Fight Ready after six months. But another eight months after that, she looked at her credit card statement and saw Fight Ready was still charging her.
"They said, it was in the contract, that I had signed it, that I had acknowledged that I would be automatically renewing until I stopped and put it in writing," Natori said.
Natori says no one at Fight Ready ever mentioned the words "automatic renewal" when she signed up, but she did initial acceptance of it on her contract. One checked box meant Natori couldn't just leave at the end of her term. She would have to notify the gym or her contract would renew on its own. Fight Ready took another $800 from her until she noticed; a mistake she will never make again.
"I'm going to make sure that the automatic renewal box is not checked," Natori said.
To avoid an unwanted auto renewal, give the gym your resignation on the day you sign up, just date it 30 days before your agreement expires.
"I think that's a great idea. I never even thought about doing that. I would definitely do that in the future if I ever join another gym like this," Natori said.
Fight Ready has been sold. The new owner told CBS 5 News that he has done away with long-term contracts. He also refunded Natori $600 and says he would have done so without our involvement had Natori reached out to him first.
CBS 5 News would like to thank Fight Ready for bringing this matter to a fair conclusion. Natori knows she made two mistakes in this case. She should have unchecked the "auto renew" box when she signed up and reviewed her credit card statement each month. Had she done only the latter, she would have easily caught this unwanted charge.
Copyright 2013 CBS 5 (KPHO Broadcasting Corporation). All rights reserved.