Lake Pleasant park ranger captures rattler giving birth on camera
Posted:
Updated: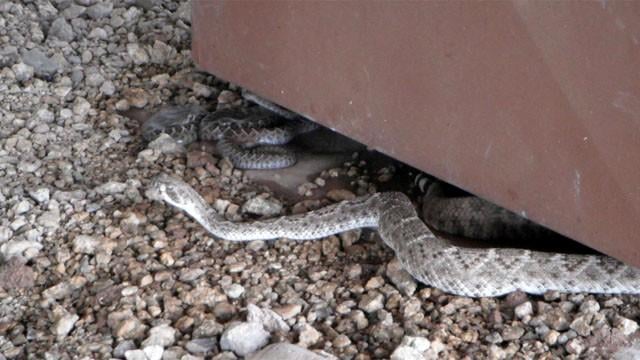 PEORIA, AZ (CBS5) -
Interpretive Park Ranger Terry Gerber didn't have to go far. Just a short stroll down Desert Tortoise Walk put him face to tail with something extraordinary.
Underneath the A/C unit at the Lake Pleasant Visitor's Center was a rattlesnake den. But it was one western diamondback in particular that caught Gerber's eye.
"I was waiting for it to move a little bit and noticed there were actually babies," said Gerber.
Gerber even captured a shot of a rattler putting itself between him and the babies. [View YouTube video of the births]
"Most snakes will back away from you. But for some reason this one was actually coming towards us a little bit telling us to back off. It was kind of interesting. It was more in a protective mode with the babies," Gerber said.

Gerber said the mother snake only stayed with her three babies for a couple days. It wasn't long before the little ones slithered away too. Now signs dot the trail, advising visitors to be aware.
"Especially with the little ones, we don't really know where they are so it's a good time to let people know they should watch where they put their hands and their feet," said Gerber.
Copyright 2013 CBS 5 (KPHO Broadcasting Corporation). All rights reserved.