After bad crash, dog survives 2 months in desert, reunites with owner
Posted:
Updated: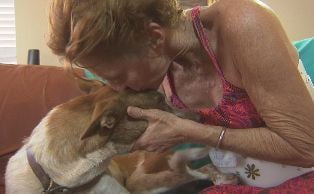 PHOENIX (CBS5) -
Here's a story that will teach you to never give up hope.
A north Phoenix woman recently survived a horrible crash, but the collision took the life of one of her dogs. Her other dog got scared and ran away.
Now, thanks to a huge community effort, that woman has been reunited with her pup, and the cameras were rolling the whole time.
One-year-old Ily survived more than two months in the middle of a desert, in the middle of an Arizona summer. And it took the clever thinking of a group of more than 100 volunteers - and even a dog's intuition - to bring her back home.
The past two months have been extremely trying for Rose Sharman. In June, a tire on her RV blew out when she was driving back from Flagstaff, leaving her bed-bound. After Ily ran away, she couldn't go search for her.
"I knew she was alive. I just didn't know where she was," Sharman said.
Inspired by her story, a group of more than 100 volunteers took turns searching near the site of the crash.
"Some people passed out fliers. Some people camped out in tents," said volunteer Sherry Petta. "If my dog was missing, I would want the world out looking for her."

The rescue team put a humane trap in an abandoned building near the crash site. They watched it around the clock because wildlife can get caught in those traps, as well. But Monday night, they got exactly what they had been hoping for.
Ily found her way out of the elements, inside the trap, and back into the arms of her mom. She only suffered some weight loss, and now she and Rose are recovering together, thinking of ways to thank the men and women who worked to bring Ily home.
"Thank you isn't enough," Sharman said. "It's just not enough."
Copyright 2013 CBS 5 (KPHO Broadcasting Corporation). All rights reserved.