PD: AZ man with meat tenderizer threatens grocery workers
Posted:
Updated: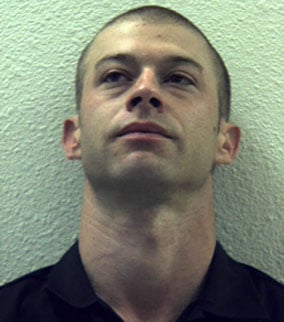 Jason Thrift (Source: Prescott Valley Police Department)
PRESCOTT VALLEY, AZ (CBS5) -
A man wielding a meat tenderizer threatened workers at a Prescott Valley supermarket, officers said.
No one was hurt in Monday afternoon's incident at the store in the 3100 block of Glassford Hill.
The suspect, Jason Thrift, 34, of Cottonwood, was taken into custody after police stopped his getaway vehicle near the intersection of Florentine and Windsong.
Two of the victims said Thrift approached them and raised the hammer-like implement in a threatening manner, according to Prescott Valley police Sgt. Brandon Bonney.
He reportedly told them that he would kill them if they didn't give back his wife and 18-month-old child. The employees said they didn't know what he was talking about, Bonney stated.
Thrift insisted his family members were being kept in an open area above the dairy section, Bonney said.
The suspect eventually left without causing any more commotion.
Police said they believe Thrift took the meat tenderizer from the store and used it during the incident.
When officers later interviewed him, Thrift said he didn't remember what he had told the employees.
Thrift was taken to the Yavapai County Jail and booked on three counts of aggravated assault, three counts of disorderly conduct, three counts of threatening and intimidating and one count of shoplifting.
Copyright 2013 CBS 5 (KPHO Broadcasting Corporation). All rights reserved.