Firefighters in training assist fishermen in rescuing boy, father
Posted:
Updated: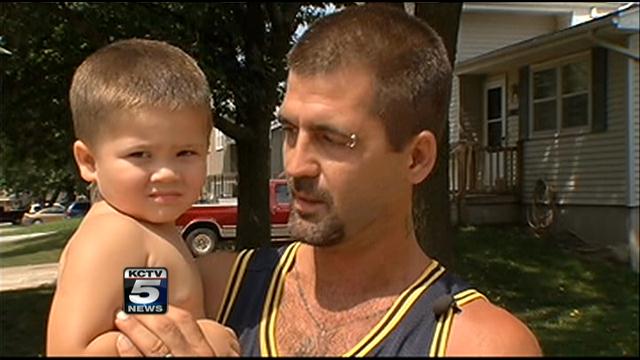 Brian Johnson and his 2-year-old son Bradyen
OLATHE, KS (KCTV) -
A routine training exercise for some firefighters turned into a real-life drama when a 2-year-old boy fell into a lake and his father dove in to rescue the toddler.
Fishermen were able to rescue both Brian Johnson and his son, Bradyen. The firefighters also rushed to the scene to assist as needed.

The Olathe Fire Department was practicing their water rescue skills, and the Overland Park Police Department's dive team had joined them for the exercise.
Firefighters heard shouts for help about 9:30 a.m. Friday.
"While fishing on the lake, a 2-year-old boy fell from a johnboat and his father jumped in to help," according to a news release from the Olathe Fire Department. "Their runaway boat was noticed by other fishermen on the water who notified the emergency crews in training and then sped toward those in trouble to offer assistance."
Two rescue boats with specially trained rescue technicians sped toward the scene. The child was wearing a life jacket while the father was not.
Johnson said he spent $15 on his son's life preserver.
"Best $15 I ever spent in my life," he said.
He said his son fell in when he reached out to touch the water.
The first on the scene were the fishermen. Kevin Cattaneo said he caught a brief glimpse as Johnson jumped into the water after his son.
Cattaneo and his friend thought Johnson and his son were part of the training exercise, but they soon realized he wasn't.
"He was screaming with every bit of conviction in his voice," Brad Smith, a fisherman, said.
While Johnson was panicking, his son never actually went under because of his life jacket.
"It just helped him. If it wasn't for that, who knows what would have happened," Johnson said. "I recommend anybody with small children put them in a jacket. It takes five seconds. That's it. My eyes weren't off him for five seconds, and he was out of the boat."
He also offers a hearty thank you to everyone who helped save the day Friday. He and his son were checked out at the scene by firefighter-paramedics who were part of the rescue operation.

A second fishing boat helped get Johnson's out of control boat stopped.

"It was great that the child was wearing a life jacket because without one, kids don't float," Fire Capt. Eric Barnum said.
Copyright 2013 KCTV (Meredith Corp.) All rights reserved.