CBS 5 Advocate
Payless Car Rental customer disputes optional charges
Posted:
Updated: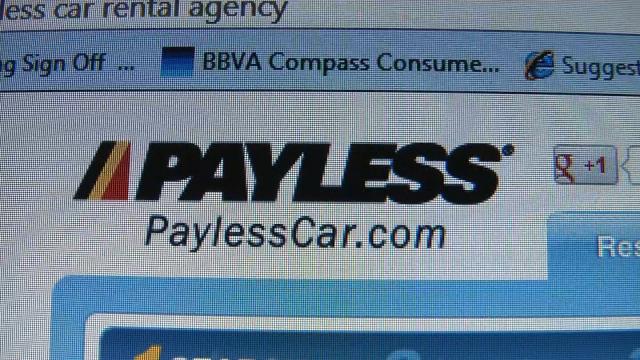 PHOENIX (CBS5) -
A Phoenix man says Payless Car Rental at Phoenix Sky Harbor Airport charged him for options he never requested and hit him with a bill more than double what he was quoted.
You know you should read contracts before signing, but how many people actually read their entire car rental agreement? Not many. There are certain parts you can't skim over because every time you place your initials, it could be costing you money.
"I've rented cars for years, through many different companies, and I've never been treated like this before," Gary Davalos said.
Davalos found a great deal online with Payless Car Rental. When he arrived at their facility near Sky Harbor Airport, he says the counter agent explained the collision insurance option and Davalos accepted.
"He circled a number of spots on the contract and asked me to initial all those circled items and sign it," Davalos said.
But Davalos didn't read each item. He thought he was declining every other optional add-on option except for the Collision Damage Waiver.
"That was the only item that was offered to me, that was the only thing that was explained to me," Davalos said.
When he returned the car, Davalos says he was given a folder. He didn't open it until he got home. He says the contract he had initialed before leaving Phoenix and that he had been carrying with him was now missing but there was a bill inside, not for the $200 he was expecting, but for over $400. It included a bunch of mysterious add-on charges he says he never heard of. The charges included Personal Accident Insurance, Supplemental Liability Insurance, Renter Liability Insurance, a Roadside Service Plan and a Consolidated Facility charge.
"When I called them, they informed me that I had requested those charges, which I had not," Davalos said.
Davalos says Payless Car Rental refused any refund. The company's own Facebook page includes similar stories from other dissatisfied customers. Davalos believes the Payless agent deceived him into adding on charges he never would have requested. Davalos says a rep at the Phoenix location for Payless Car Rental told him counter reps are paid a commission for additional options sold.
"Made himself some money and made a little money for the company too, but he's lost a customer," Davalos said.
The web is littered with complaints from consumers regarding their experiences with Payless Car Rental and many of those complaints have to do with overcharges. Davalos told CBS 5 News that a counter representative for Payless Car Rental at the Phoenix location told him that reps are paid a commission for add-ons sold. Avis, who recently purchased Payless, would not confirm or deny if this was true.
Avis responded to this story with the following statement: "We have looked into Mr. Davalos' matter and consider it resolved. Not only were the coverages explained to him, he initialed the additional charges on the rental agreement which indicate his acceptance. As such, we believe that our staff acted professionally and appropriately and that he was billed correctly."
Bottom line: Don't just look for the circles on any car rental contract, look for the words "decline and accept" so you don't get charged for something you don't want.
Copyright 2013 CBS 5 (KPHO Broadcasting Corporation). All rights reserved.