Mysterious priest miraculously appears, disappears at crash scene
Posted:
Updated: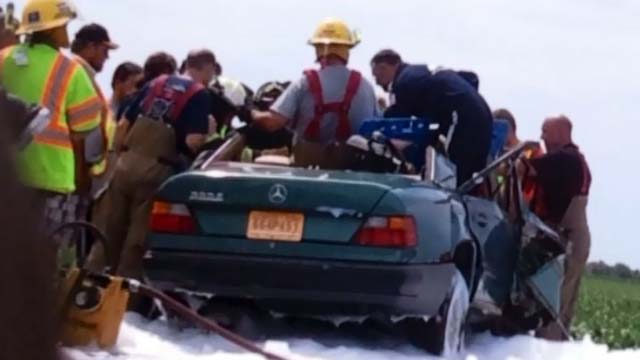 CENTER, MO (CNN) -
Rescue workers in Center, MO, are confident a higher power came to their aid at a crash scene Sunday.
They said they pulled a girl to safety thanks to the power of prayer, and a mysterious man.
New London Fire Chief Raymond Reed said rescue workers spent the first 45 minutes after the horrific crash trying to get Katie Lentz out of a car to no avail.
"The materials it was constructed of were probably better than how cars are constructed today," Reed said. "It was a very well-built car, and when you compact materials like that one, they become even stronger because you're cutting through multiple things instead of one layer."
About an hour into the rescue, Lentz told rescue workers she wanted to pray out loud with them, and that's when a priest appeared out of nowhere.
"He came up and approached the patient, and offered a prayer," Reed said. "It was a Catholic priest who had anointing oil with him. A sense of calmness came over her, and it did us as well. I can't be for certain how it was said, but myself and another firefighter that was beside me, we very plainly heard that we should remain calm, that our tools would now work and that we would get her out of that vehicle."
Fire crews showed up right after the prayer and fresh equipment was used to finish the extrication. After getting Lentz safely into a helicopter, at least a dozen of the rescue workers turned around to thank the priest, who was nowhere in sight.
The highway had been blocked for a quarter of a mile during the rescue operation, leaving no cars or bystanders in the area.
Lentz's family and friends said they're amazed by the story.
"Where did this guy come from? We're looking for the priest and so far, no one has seen him," Michael Haiducek said. "Whether it was a priest as an angel or an actual angel that came in and wearing the priestly attire, he was an angel to all those and to Katie."
Reed said he wants to thank the priest as well.
"We would like to find this gentleman and be able to thank him," Reed said. "As a first responder, you don't know what you're going to run into. We have a lot of tools that allow us to do many things, and we have intensive training. In this particular case, it is my feeling that it was nothing more than sheer faith and nothing short of a miracle."
Copyright 2013 WFSB (Meredith Corporation). All rights reserved.