Mercury "Rocks the Pink" in support of Breast Health Awareness
Posted:
Updated: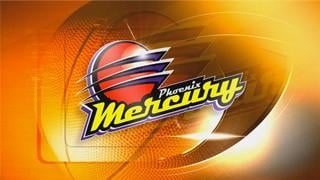 © cbs 5
PHOENIX (CBS5) -
The Mercury is "Rocking the Pink" during its annual breast health awareness games on Friday, August 9 (7 p.m. tipoff) and Sunday, August 11 (3 p.m. tipoff), both against Skylar Diggins and the Tulsa Shock. Each night the team will wear all-pink uniforms and host a variety of uplifting activities in an effort to celebrate breast cancer survivors and promote breast health.
Prior to Friday's game, the Mercury will tipoff their "Rock the Pink" weekend by selling pink luminarias, where fans can write messages to those who have been affected by breast cancer. Each luminaria will cost $1, with all proceeds benefiting Singleton Moms, a non-profit organization that helps single parents who are currently battling breast cancer and other serious illnesses. The luminarias will be placed in the shape of a pink breast cancer ribbon that will be displayed on the US Airways Center plaza and lit at halftime.
On Sunday, the Mercury will continue to promote breast health awareness by hosting a chalk art festival on the plaza at US Airways Center. The festival will feature 14-28 local artists, who will create uplifting and inspirational works of art using only shades of pink chalk. Fans will be able to purchase raffle tickets to vote for their favorite work of art and will be entered into a drawing for Mercury autographed merchandise. All proceeds will benefit Singleton Moms. The artist with the most raffle tickets at tipoff will receive a one-night stay at the Hotel Palomar Phoenix|CityScape.
Also prior to Sunday's tipoff, the team will host a breast health expo featuring booths and information from several Valley health organizations including: Tiffany foundation, Breast Cancer Society, Don't Be a Chump! Check for a Lump!, Body and Breast Thermal Imaging, and Beads for Beauties.
Finally, Phoenix Mercury players Diana Taurasi, Brittney Griner, Penny Taylor, Candice Dupree and DeWanna Bonner will donate their game-worn uniforms in a live auction after Sunday's game with proceeds benefiting Singleton Moms.
"This annual event is special to the Phoenix Mercury as the fight to end breast cancer is close to the hearts of several of our players and staff members," said Mercury president and COO Amber Cox. "The support from our team and our tremendous fans is a major step towards making a difference for the families of Singleton Moms, as well as those fighting this battle everywhere."
Tickets are available for the two Mercury-Shock games during the team's "Rock the Pink" weekend on August 9 and 11. Tickets are available by calling 602-252-WNBA or visiting phoenixmercury.com.
Copyright 2013 CBS 5 (Meredith Corporation). All rights reserved.