Gilbert police say no truth to Facebook post on solicitors
Posted:
Updated: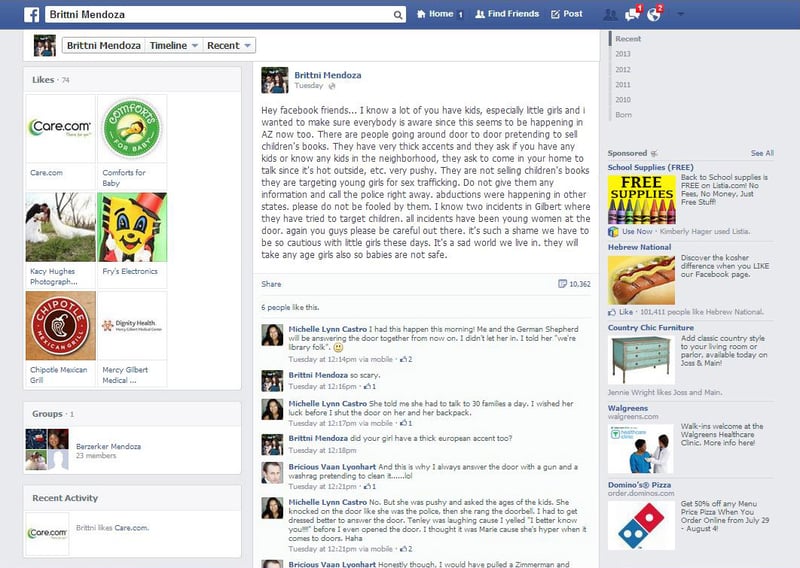 (Source: Facebook)
GILBERT, AZ (CBS5) -
The Gilbert Police Department is setting the record straight on a Facebook post that's spreading and causing concern for the community.
The post claimed people were posing as salesmen and women to get information on children, to engage in illegal activity.
Here's the original post:
"Hey facebook friends... I know a lot of you have kids, especially little girls, and I wanted to make sure everybody is aware, since this seems to be happening in AZ now too. There are people going around door to door pretending to sell children's books. They have very thick accents, and they ask if you have any kids, or know any kids in the neighborhood, they ask to come in your home to talk since it's hot outside, etc. very pushy. They are not selling children's books, they are targeting young girls for sex trafficking. Do not give them any information and call the police right away. Abductions were happening in other states. Please do not be fooled by them. I know two incidents in Gilbert, where they have tried to target children. All incidents have been young women at the door, again you guys please be careful out there. It's such a shame we have to be so cautious with little girls these days. It's a sad world we live in. They will take any age girls also, so babies are not safe."
Gilbert police said there is no information at this time to back up the claims.
The Gilbert Police Department released the following statement Friday:
"It has come to the Gilbert Police Department's attention that a Facebook post being disseminated through social media networks claims female subjects are soliciting door to door in Gilbert, in an attempt to sell children's books and publications. The post claims these solicitors are posing as salespeople in order to gain information on children in the area for the purpose of engaging children in illegal activity.
"The Gilbert Police Department has no evidence to substantiate the claims at this time. GPD has responded to calls of suspicious activity regarding the subjects selling publications door to door. We have identified that they have a valid license to do so from the Town of Gilbert. At this point we have no reports of criminal activity involving these subjects to date.
"Residents are reminded they have no obligation to answer their door for solicitors. To verify legitimacy, solicitors are required to have a Town of Gilbert peddler's license in their possession. If a solicitor refuses to leave your property, after you have requested them to do so, call the Gilbert Police Department's non-emergency number at(480) 503-6500 to resolve the situation."
Gilbert police say they contacted the person who originally made the Facebook post, and she admitted that she had no basis to believe it was true. She said it came from a third party in another state.
Copyright 2013 CBS 5 (KPHO Broadcasting Corporation). All rights reserved.