CBS 5 Advocate
Make a claim if you think food by-product causes damage
Posted:
Updated: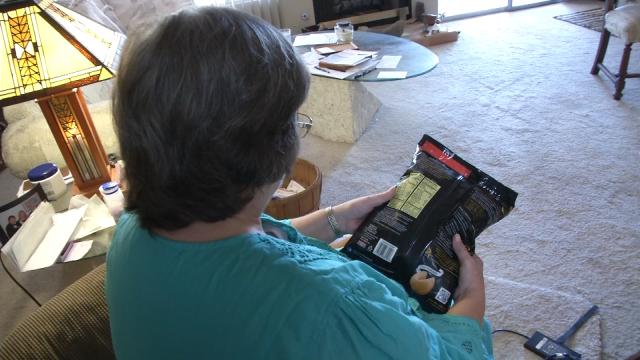 SUN CITY, AZ (CBS5) -
A Sun City woman says she broke a tooth on a foreign object in her favorite, pre-packaged potstickers. She says the manufacturer told her it was some sort of adhesive, but they won't accept liability.
"I broke my tooth on a hard object in their food product," Adaire Thompson said.
Thompson says she was eating a Tai Pei Pork Potsticker, when she bit into a small, bone-like object. She says it cost $1500 to repair that tooth. She contacted the manufacturer, Windsor Foods.
"Windsor Foods insisted that I send the evidence to them, so they could determine what it was, in order to draw a conclusion," Thompson said.
Thompson says Windsor Foods analyzed the object, and told her it was a piece of plastic off the equipment that makes the potstickers, and its presence in the food was within FDA standards. Thompson called the FDA and says the agency disagreed. When she brought that to Windsor Foods attention, she says the company then claimed the object was industrial glue.
"They felt that FDA guidelines allowed them to have that industrial glue in their product," Thompson said.
Thompson says the FDA confirmed for her, that industrial glue is also not permitted in food, but Windsor Foods is still denying all liability.
"I think they should pay the full cost of the crown, but I also think, the bigger question is 'what's allowed in our food?'," Thompson said.
And she's got advice for anyone else that finds a foreign object in any food product.
"I would tell them definitely not to send the object to the company, because the company destroys the object, and you lose your evidence," Thompson said.
CBS 5 News reached out to the FDA. The agency confirmed that glue is not allowed in food products, and there were regulations on adhesives for indirect food contact. Here is the FDA's full statement:
"Food additives fall into two categories, direct and indirect. While a direct food additive is an intentional component of the food, an indirect additive will migrate into the food from packaging or from food processing equipment during processing. Adhesives, including animal glue, are authorized by FDA as indirect additives, meaning that they may be used in packaging to form protective seals. If there is any food contact with the packaging adhesive, only very small quantities of the adhesive or its components could migrate to the food. However, there is no authorization for the use of an adhesive as a direct food additive. Thus, having an adhesive inside the food would render the food adulterated, and not fit for human consumption."
Windsor Foods told CBS 5 News that it never told Thompson that glue was permitted to be in food products, and they never agreed that the object was glue.
To ensure that any financial claim related to damage from a foreign food product gets the proper consideration from the food maker, make sure you get as much visual evidence of the object in question, before you send it to the company.
Copyright 2013 CBS 5 (KPHO Broadcasting Corporation). All rights reserved.